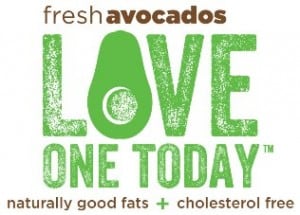 A few months ago I wrote about Avocados.  Today I am writing about them again to give you more information, more recipes, and introduce the Love One Today campaign. 
Did you know that Avocados are a fruit?  Most people associate them with vegetables, because they are not sweet like most fruit.  This is due to their much lower sugar content.  Avocados grow as the fruit of a tree.  Avocados are the only fruit that contain monounsaturated fat.  Fruits in general are considered fat-free!  
Avocados are also a powerhouse of nutrients.  Avocados contain 20 essential nutrients which include vitamins, minerals, and phytochemicals.  Phytochemicals are nutrients that appear to provide a health benefit beyond that of vitamins and minerals.   The particular phytochemicals are Lutein and Zeaxanthin, which have been shown to possibly help maintain eye health as we age.  In a one ounce serving there is 81 mcg of Lutein and zeaxanthin. It is so amazing that a fruit could contain so many nutrients!  This is why I love food and nutrition so much!!!
Other Nutrition Facts ( 1oz serving or 1/5 of a medium Avocado)
50 kcal
4.5 gm Total Fat
0.5 gm Saturated Fat
0.5 gm Polyunsaturated Fat
3 gm Monounsaturated Fat
150 mg Potassium
3gm Carbohydrates
0 gm Protein

Avocado Benefits Continued
The nutritional make up of Avocados help make them a great choice for helping you meet heart-healthy nutrition recommendations.  The fruit is free of sodium, low in saturated fat, and cholesterol.  Avocados are also helpful in weight management as they can be used in place of higher fat foods and condiments.  Finally, avocados are "nutrient boosters".  Fat-soluble nutrient absorption can be enhanced by avocados.  For example, Vitamin A can be made in our bodies from alpha and beta carotene consumed from other fruits and vegetables.  Vitamin A has many roles in the body including growth and eyesight, so very important.  Vitamin A is a fat-soluble vitamin, meaning that fat helps us absorb this nutrient.  The fat in avocados, when combined with a vitamin A rich food can help you absorb vitamin A.
Make sure you choose fresh, unprocessed avocados, to get all the benefits of the fruit.  Hass Avocados are a good choice.  For more information regarding the natural goodness of avocados including their benefits, uses, and recipes. check out the Hass Avocado Board and  Love One Today.  Love an avocado today!
Uses in Recipes
Spreads on Sandwiches
Dips for veggies or baked chips
In salads or side dishes
Ingredient in soups and sauces
 Check out the two dishes I made with 1 Avocado this week and the Guacamole Recipe I shared previously.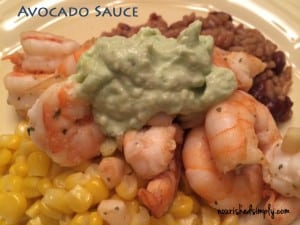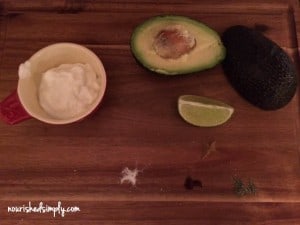 Sauce Ingredients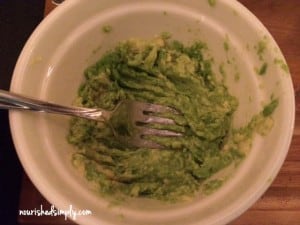 Mashed Avocado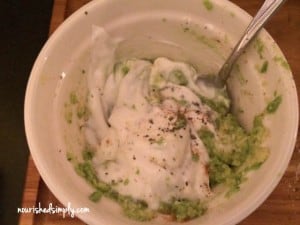 See the recipe below!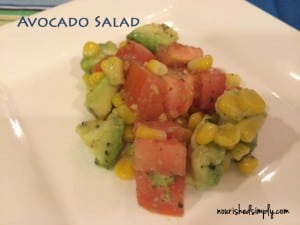 So easy salad, see recipe below!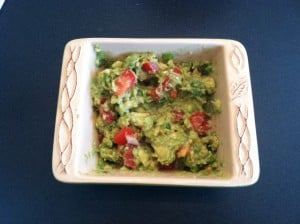 Click here for my favorite guacamole recipe.   
 Although I did receive financial compensation for writing this post, all views and opinions expressed on this blog are purely and entirely my own and based on my own unique experiences.  For nutrition information on avocados, please sure to visit the LoveOneToday.com website.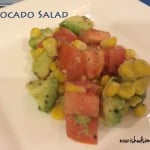 Avocado Salad
Avocado with tomatoes and corn make a hearty and fresh side dish.
Ingredients
1/2

Avocado

1

large Roma Tomato

1

cup

yellow corn cooked

1

Lime Wedge

1

tbsp

olive oil

Sea Salt and Black Pepper to taste
Instructions
Cut avocado and tomato into cubes. Add to cooked corn. Add lime juice and olive oil. Season to taste. Mix carefully with a spoon. Refrigerate until ready to serve.
Nutrition Facts
Avocado Salad
Amount Per Serving (3 g)
Calories 154
Calories from Fat 90
% Daily Value*
Total Fat 10g 15%
Sodium 65mg 3%
Total Carbohydrates 17g 6%
Protein 3g 6%
* Percent Daily Values are based on a 2000 calorie diet.