I am definitely a fan of dishes that combine multiple ingredients.  All-in-one recipes give you a variety of color, tastes, textures, and nutrients.  This black bean and corn salad is an example of a dish that gives you lots of colors and nutrients, but also includes protein, carbohydrate, and fat sources making it a perfect meal.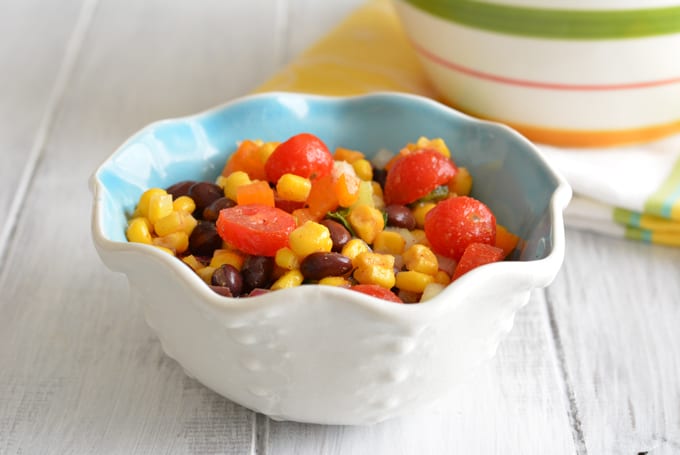 Beans are a source of complex carbohydrates and also are plant-based protein sources.  Without animal protein, this dish is considered vegan.  You could add your favorite cheese as well for added protein, which would make this a lactovegetarian recipe.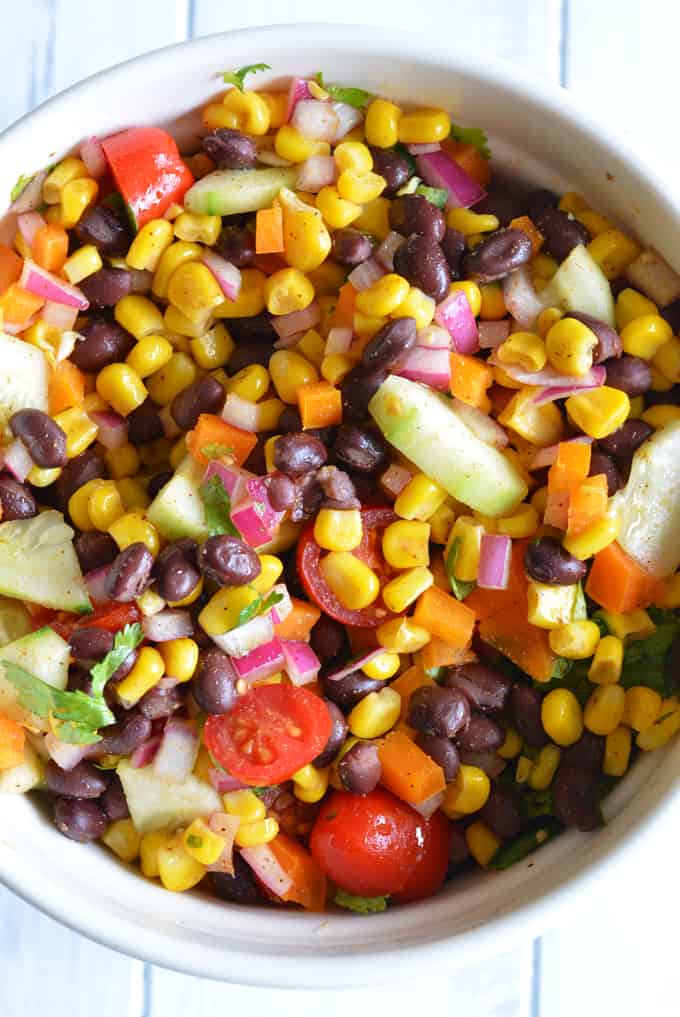 We have corn with dinner a few times per month.  My kids like corn, heck so do I.  We are surrounded by corn fields here in Pennsylvania!  We always have leftovers, so this recipe is a great use for leftover corn.  I hate when food goes to waste.  The other day I cleaned out the refrigerator and found quite a few science experiments!
My hubby and I eat leftovers whenever possible, however, my son hates leftovers.  We keep telling him he will change his tune when he's older and has to feed himself.  Since Scott and I have been together (since 1996) we always make meals that will give us leftover.
I do all of the cooking, but get tired of cooking every night.  This is especially true on the days I work at the hospital. I have at least a 45-minute drive home.  By the time I get home and tend to the kids either with homework or activities I am just too tired.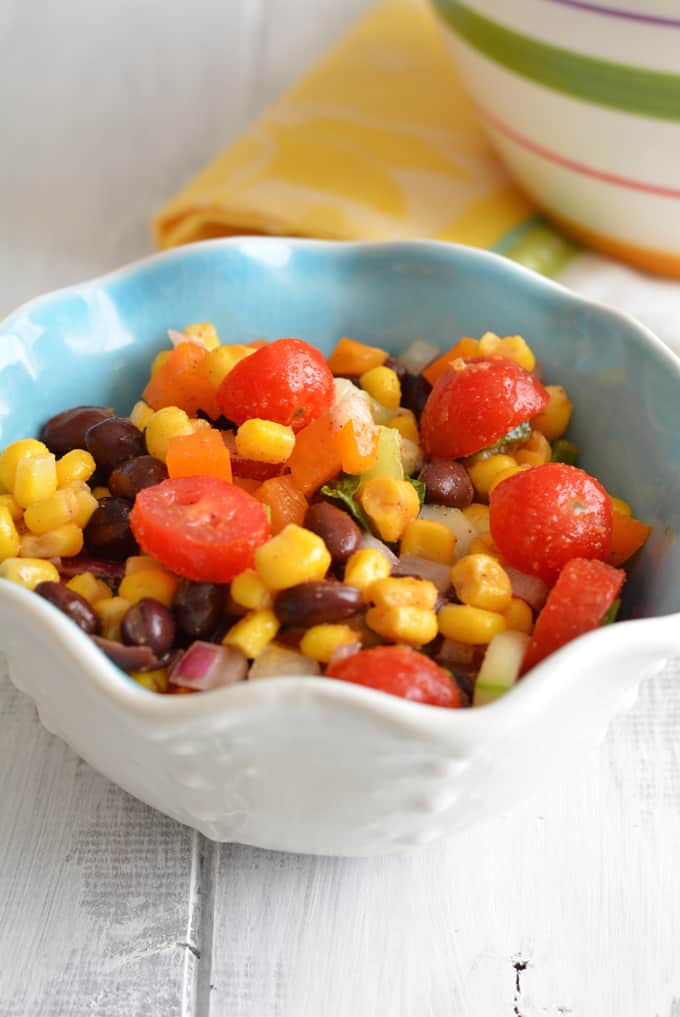 A lot of my clients have the same issue.  It's times like these when fast food and other convenience food that aren't the best choices creep in.  Of course, I have ordered my fair share of pizza and Chinese food, but we try to limit this to only once or twice per month.  Having meals that stretch to a few days can increase your free time and make sure you are eating more nutritious meals.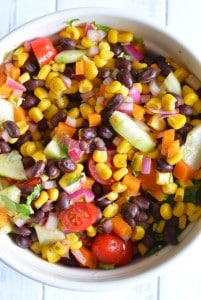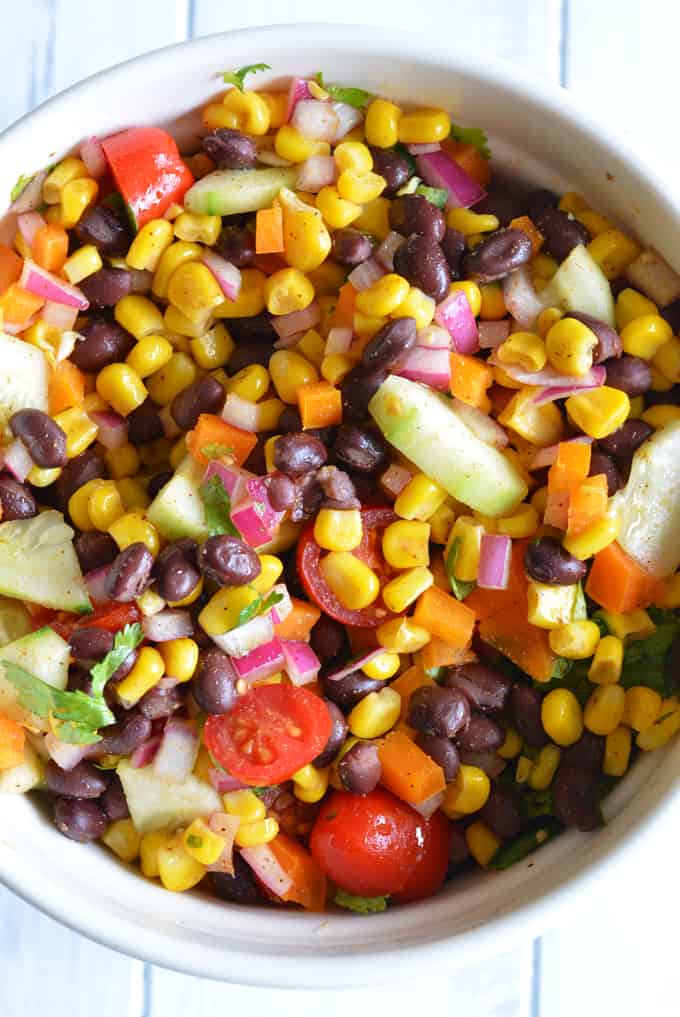 Print
Black Bean and Corn Salad
Yield 12
Ingredients
1 can black beans, drained and rinsed
2 cups sweet corn, cooked
1/2 red bell pepper, diced
1 cup cucumber, cubed
1 cup roma tomatoes. diced
1 cup red onion, diced
1 small jalapeno pepper, diced
1/4 cup fresh cilantro, chopped
Juice of 1 lemon
3 Tablespoons olive oil
1 Tablespoon red wine vinegar
1 teaspoon cumin
1/2 teaspoon chili pepper
Instructions
In large bowl toss together beans, corn, bell pepper, tomatoes, onion, jalapeno pepper, and cilantro.
In a small bowl whisk together lemon juice, olive oil, vinegar, cumin, and chili pepper.
Add dressing to the salad, stir to coat.
What is your feeling on leftovers? Love them or hate them?