This warm gooey baked spinach artichoke dip is so easy to put together for any party. No need to open store-bought dip again!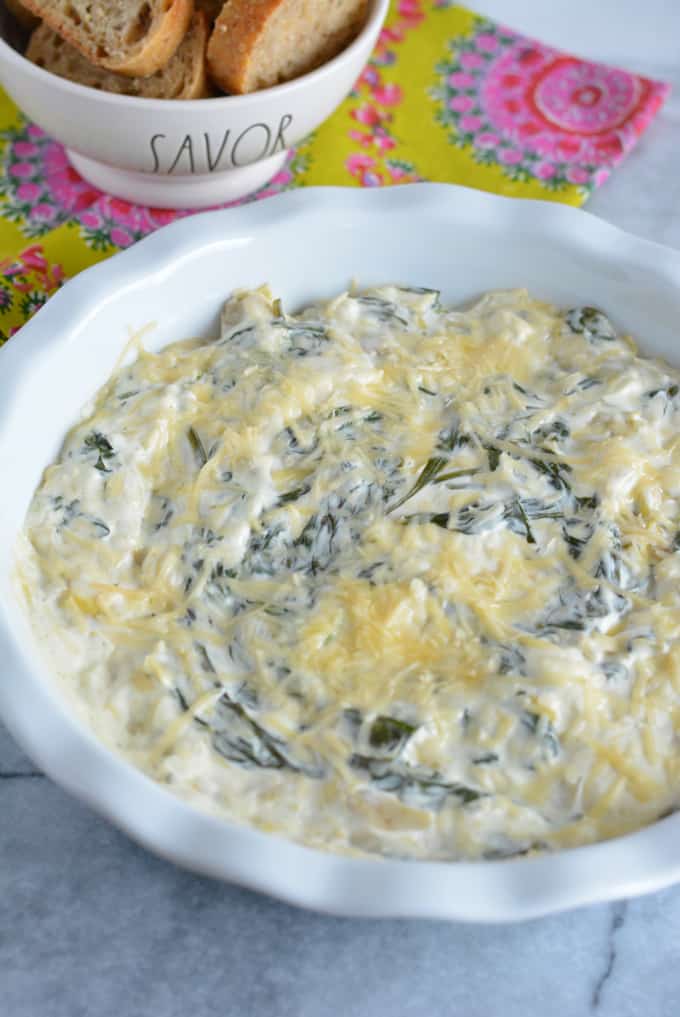 Dips are my go-to choice for parties.  You can make several dips to satisfy anyone's taste.  We aren't a fancy punch.  At my in-law's house onion dip and potato chips are always in stock.  I think of spinach artichoke dip as being a bit more of a sophisticated dip. So when we need to step it up a notch baked spinach artichoke dip is on the menu rather than plain chips and dip!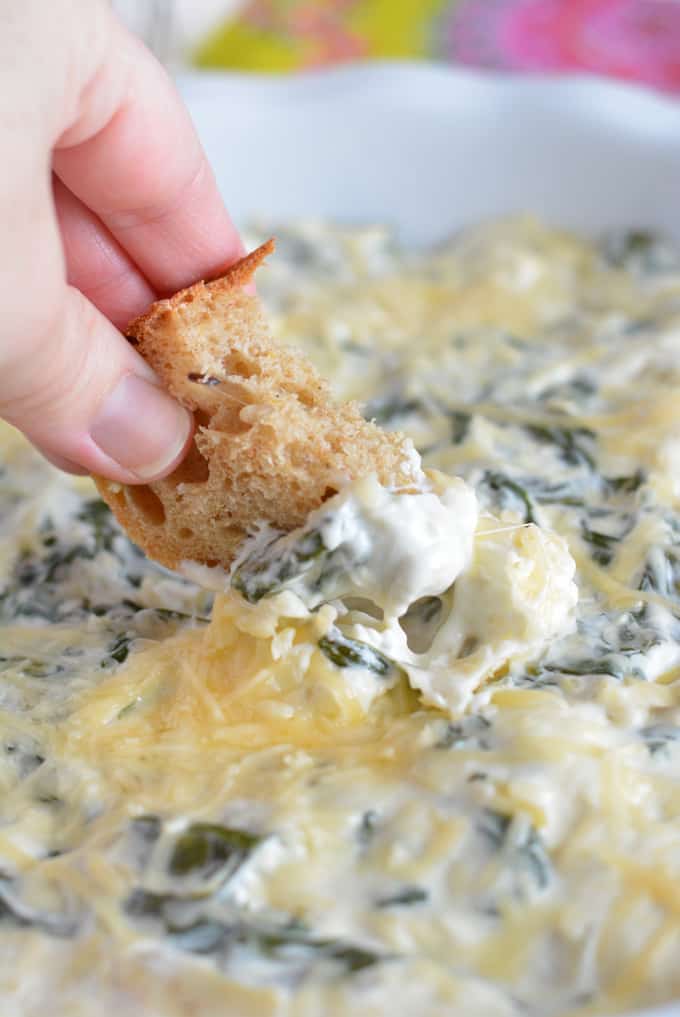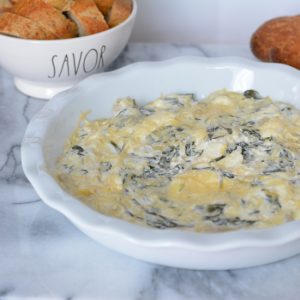 Print
Easy Baked Spinach Artichoke Dip
Yield 24 servings
Spinach artichoke dip made with fresh spinach is an easy dip perfect for any party.
Ingredients
1 teaspoon Olive Oil
1 clove garlic, minced
5 ounce of fresh spinach (1 bag)
1 (10 oz) jar of marinated artichoke hearts
8 ounces low-fat cream cheese
1/4 cup light sour cream
1/4 cup light mayo
1/4 cup shredded parmesan cheese
Pinch of sea salt
Instructions
Preheat oven to 350 degrees F.
Heat olive oil in a skillet over medium heat.
Saute garlic in olive oil for 1 minute.
Add spinach to skillet, saute until wilted.
While spinach is cooking cut artichoke hearts into bite sided pieces. (save marinade)
Add artichoke pieces to skillet along with 1 tablespoon of artichoke marinade.
Place cream cheese, sour cream, mayo, parmesan cheese, and salt to spinach artichoke mixture.
Heat until sour cream and parmesan is melted.
Place spinach artichoke dip into a baking pan.
Bake dip until bubbly, about 10 minutes.
Courses Appetizer
Nutrition Facts
Serving Size 1 tablespoon
Amount Per Serving

Calories 53

% Daily Value

Total Fat 3.6 g

6%

Saturated Fat 1.7 g

9%

Unsaturated Fat 0.9 g

Cholesterol 10.7 mg

4%

Sodium 108.8 mg

5%

Total Carbohydrates 3.2 g

1%

Dietary Fiber 0.2 g

1%

Sugars 0.7 g

Protein 2.2 g

4%
* Percent Daily Values are based on a 2,000 calorie diet. Your daily values may be higher or lower depending on your calorie needs.
The original recipe that I tried when I made my first attempt at spinach artichoke dip used frozen spinach. I can't tell you how much a hate using frozen spinach.  My feelings have nothing to do with the nutrition content because frozen spinach is just as nutritious as fresh. What I hate is having to drain it and then squeeze the liquid out.  I'm never sure that I have squeezed the spinach enough! This is why I only used fresh. I also really don't like garlic powder, so there's fresh garlic in this recipe too.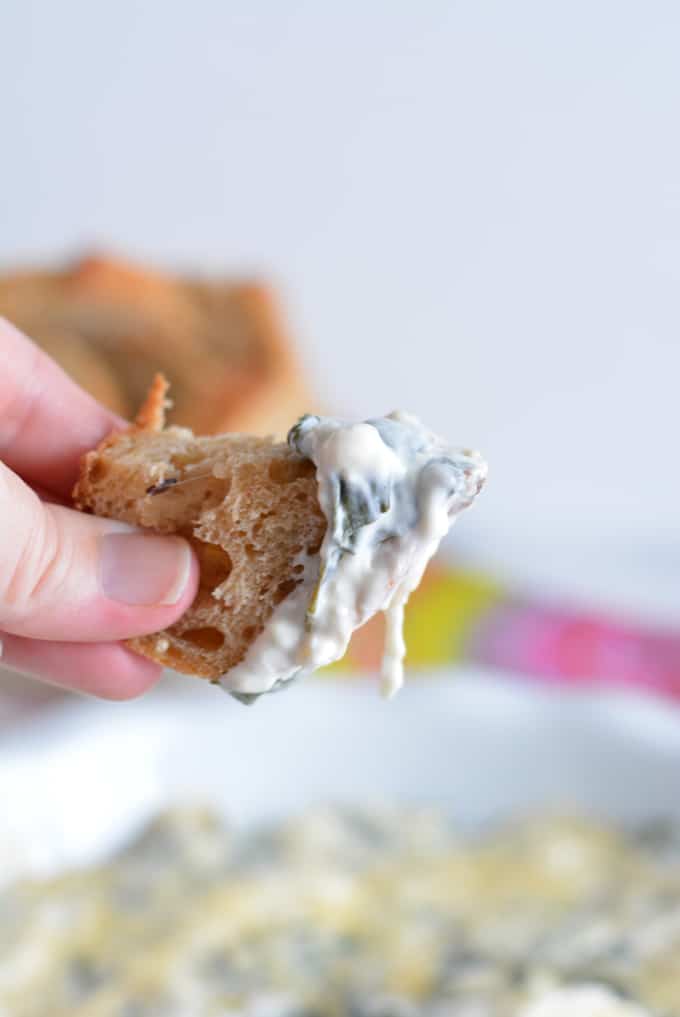 I love to eat spinach artichoke dip with bread, but you can use any "dippers" that you want. The only issue with bread is that it fills you up pretty quick. Crackers would be less filling. Veggies, like bell peppers and celery, would be more nutritious. There are so many possibilities.