One of the biggest challenges to wellness that I find my clients (and myself) struggling with is finding time for exercise.  Busy schedules don't often give us much free time for fitting in fitness.  Before I became a mother 12 years ago I had tons of time, but once little ones came into the picture my free time decreased tremendously.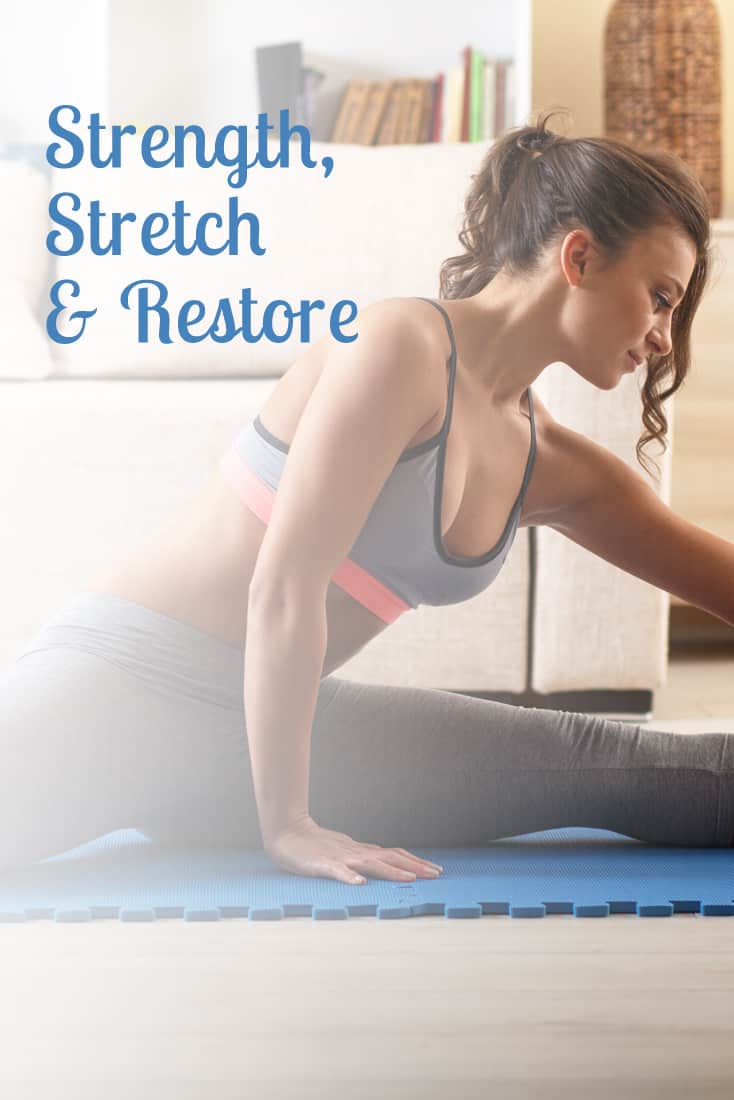 Many gyms and fitness centers do have babysitting services.  I have always worked part time and therefor my children went to daycare three times per week.  I refused to place them in a babysitting room, so I could work out because they were in daycare as well.  Workout time had to be in the early mornings and on weekends.
Working out at home is a great option!  Many people think that they need to own expensive gym equipment like treadmills, bikes, weights etc.  I think this hinders many people from home exercise. Of course you can always workout outside, but for some of us that experience really cold winters (it was 8 degrees here in PA the other day) this option can be tough.
Video workouts are perfect home workout options for people who a crunched for time.  Many home workout videos don't require equipment either.  The web has also increased the number of videos available.  There are a number of on demand video websites available now.  You can exercise anytime and anywhere you have a computer, table, or smart phone.  An added bonus is that you have more of a variety of fitness classes available to you.
I recently partnered with BooyaFitness, an on demand website that offers boutique style exercise classes.  If you have ever attended a boutique fitness class (such as yoga, spin, barre etc) or looked into boutique classes you know how costly these fitness classes can be.  For example at the local Pure Barre studio in my area the cost for 1 month of unlimited classes is $199.00.  One barre class costs $23.00!
BooyaFitness offers many different types of classes including, barre, Pilates, kickboxing, HIIT, sports conditioning, dance, bootcamp, prenatal, and ballet.  You can try BooyaFitness risk free for 30 days, which is such a wonderful way to try them out without risk.  If you love BooyaFitness and want to continue the costs are as follows: $9.99/month, $9.00/month with a 3 months subscription, and $8.25/month with a 12 month subscription.
BooyaFitness also offers workout plans developed by bloggers and fitness trainers.  These workout plans are an additional cost, however only range from $2.99 to $4.99.  I was asked by BooyaFitness to create one of these workout plans.  My plan is entitled Strength, Stretch, and Restore.  I created this plan to meet my own needs, but it will definitely meets the needs of people who are new to fitness or like me recovering from injury.
I am not new to fitness, but have several issues such as tendinitis and bursitis that I have as a result of running (likely not properly).  When I was running I did a poor job of stretching adequately and did not cross train to improve strength and balance.  I have gluteal tendinitis, and angry IT band, and bursitis and instability in my ankle.  My workout plan has helped me improve strength, flexibility, and balance.  This workout will help you prepare for more intense activity if you are new to exercise or help you recover from injury.
Prior to partnering with BooyaFitness I did try out other websites, such as Daily Burn.  I was frustrated with Daily Burn, because I was not able to do many of their workouts as they were intense.  I stuck with pilates, which I did enjoy, but felt that their workouts were limited for new or injured exercisers.  I encourage you to try as many of these sites as you can.  Many of free trials, so why not take advantage of that?
For extra motivation BooyaFitness is running a New Year's Challenge starting January 11th.  To join the challenge join and sign up for one of the workout plans before January 10th.  The challenge will run until January 25th and of course there will be prizes!!!