Enjoy a better-for-you version of the McDonald's classic Big Mac right at home. You won't taste the difference because these homemade copycat big mac sliders are topped the "special" sauce!
Jump to Recipe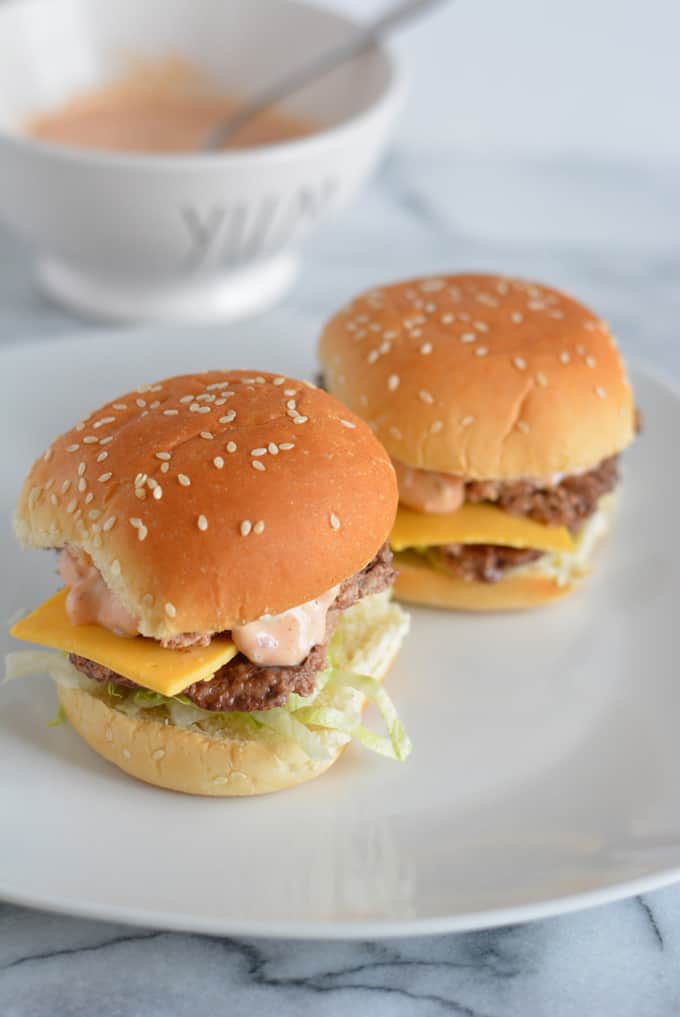 I know what you're thinking, how does a dietitian know what a Big Mac tastes like?  I have eaten at McDonald's. Dietitian's who pretend that haven't are full of crap! They may not have set foot in a McDonald's for years, but I bet even as a kid they ate at least one McDonald's burger!  How can I help my clients who occasionally run into the golden arches pick the better option if I don't know what's on the menu? Right?
My 40ish-year-old intestines cannot handle McDonald's, so I do refuse to eat there now, but as a kid, we went there every once in a while. My teenager, who ends up at the local McDonald's after he and his friend's workout at the gym (I know it makes no sense to me either) is learning that their food (or what they call food) isn't great! But, he does like the taste of their Big Macs! I thought if I can mimic the taste at home he would stop going there altogether. I'm not stupid. I don't think he's going to stop going there, but a girl can try. TJ did approve of these Big Mac Sliders, thank goodness!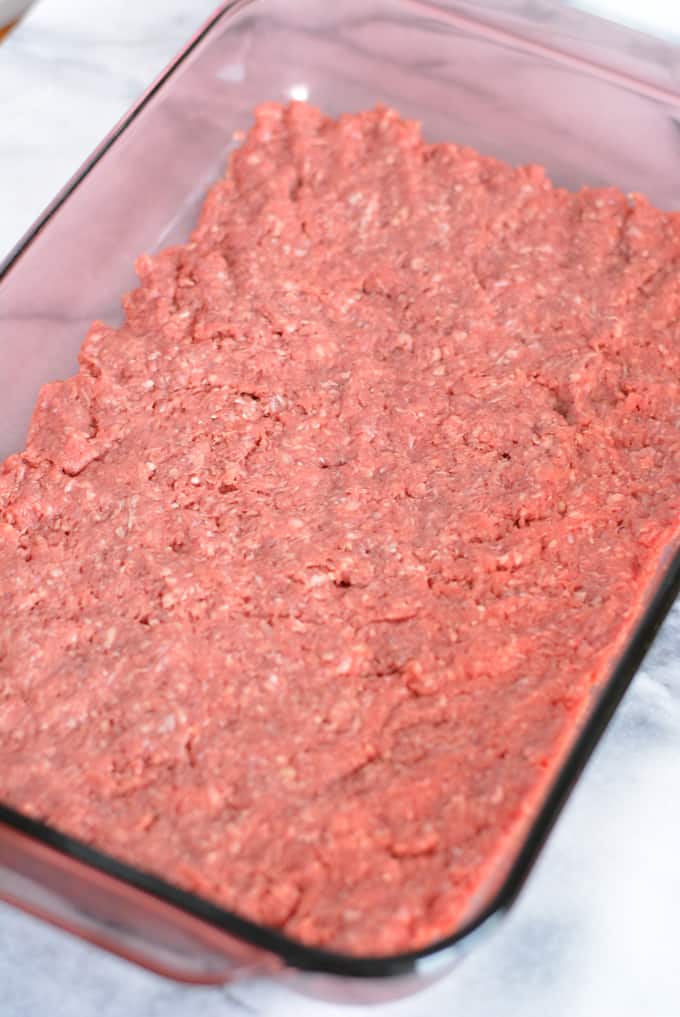 How to make Big Mac Sliders
To make any sliders I start with lean ground beef (preferably grass fed).  Simply spread 1 pound of ground beef evenly in a 13×9 inch baking pan.  I spray the pan with a thin coating of olive oil spray, just so the meat doesn't stick. I don't think it would, but it makes me feel better anyway.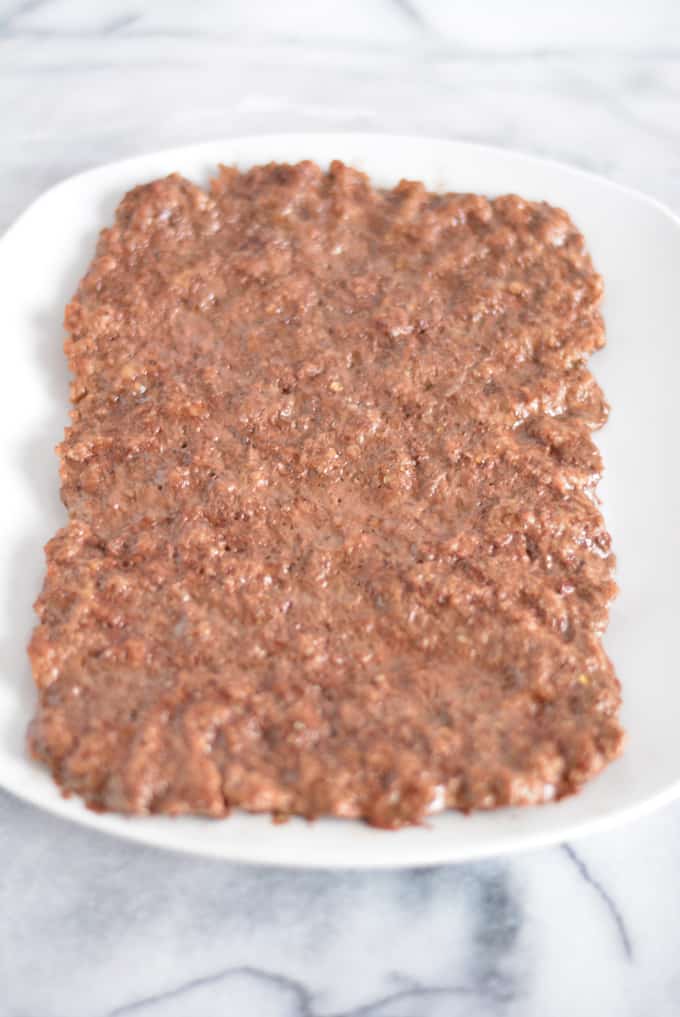 After you bake the ground beef in the oven for about 20 minutes you can remove the rectangle of meat and then cut the beef into squares.  I can get anywhere from 8-12 patties.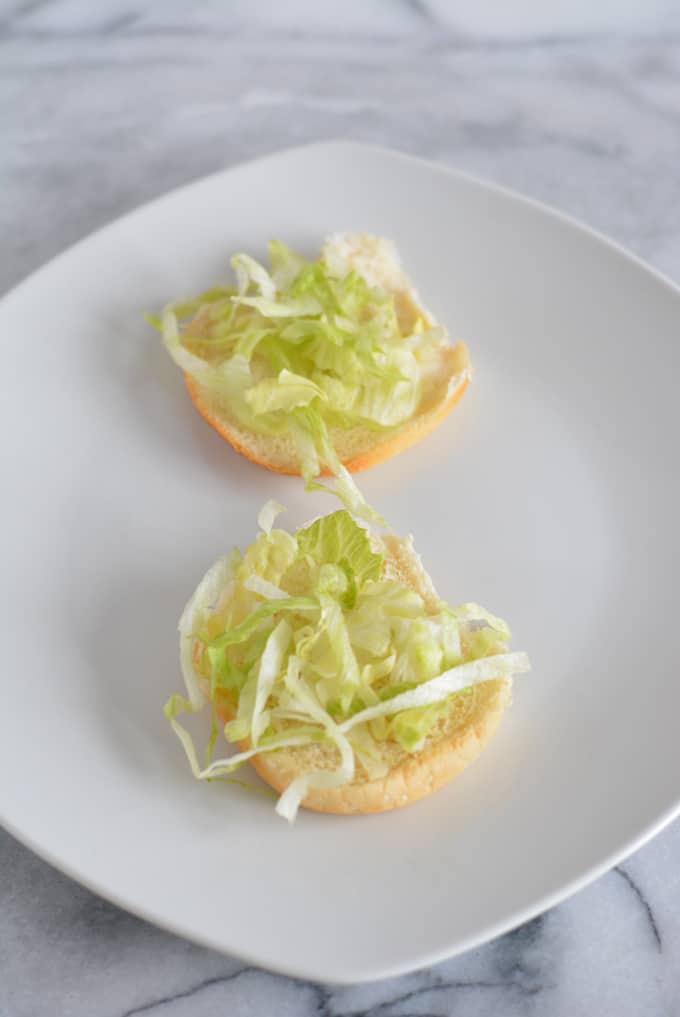 To make an authentic Big Mac you need to use the less desired iceberg lettuce.  You can use any lettuce you want, but my son will only accept this slider if it looks and tastes authentic!  Instead of buying a whole head of iceberg lettuce I cheat and buy a small bag of shredded lettuce.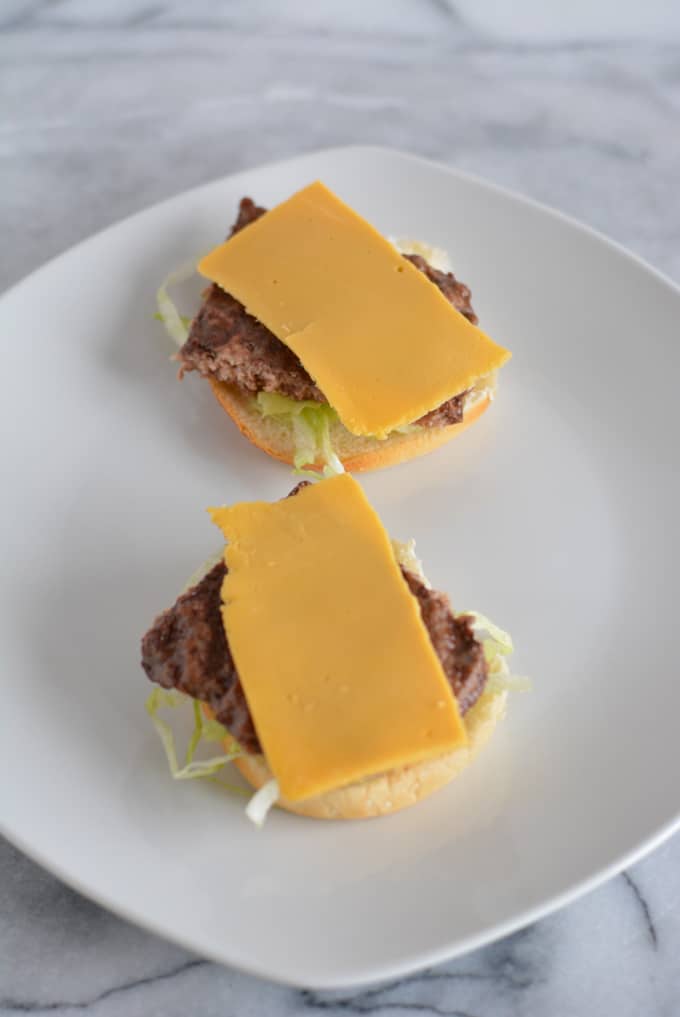 I'm not really sure what type of cheese McDonald's uses. I tried to sing the Big Mac song to see if they name the cheese, but they don't. You know the song "Two all beef patties, special sauce, lettuce, cheese, pickles, onions, on a sesame seed bun". If you grew up in the 70's and 80's you heard it! Haha, I couldn't resist, here it is!!
I tried both cheddar and orange American.  They both taste like they belong.  I'm sure you get processed orange American on the real Big Mac.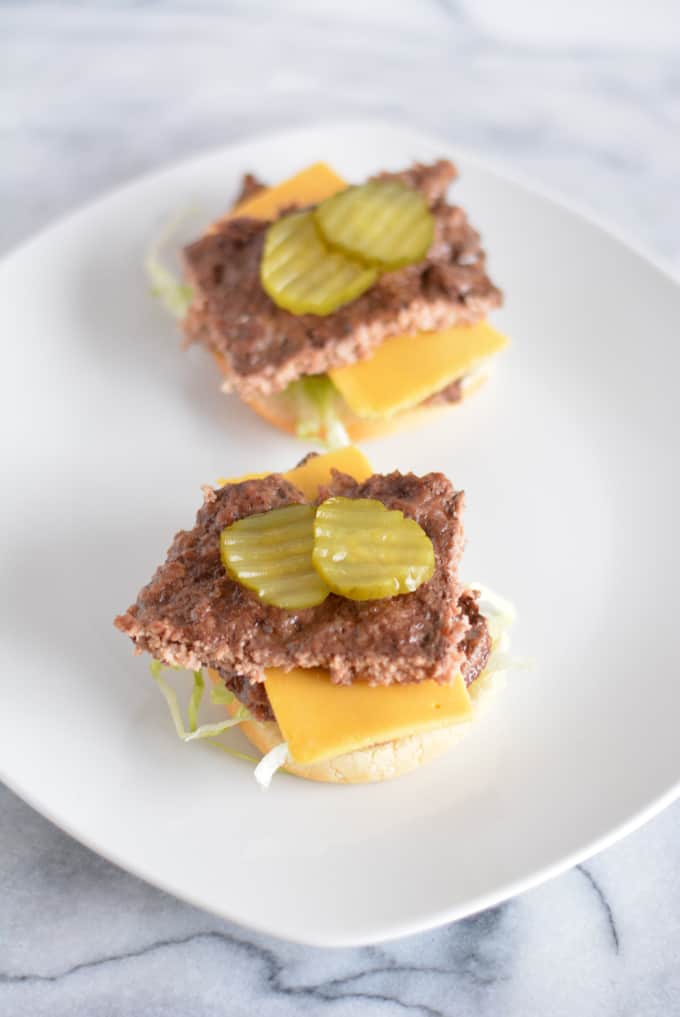 You have to add a second burger patty to be authentic, but you really don't need to. You can save some calories that way.
The first time I made these I forgot to buy pickles. My hubby and son ran out to buy a jar because the sandwich just wouldn't be the same without them! OMG!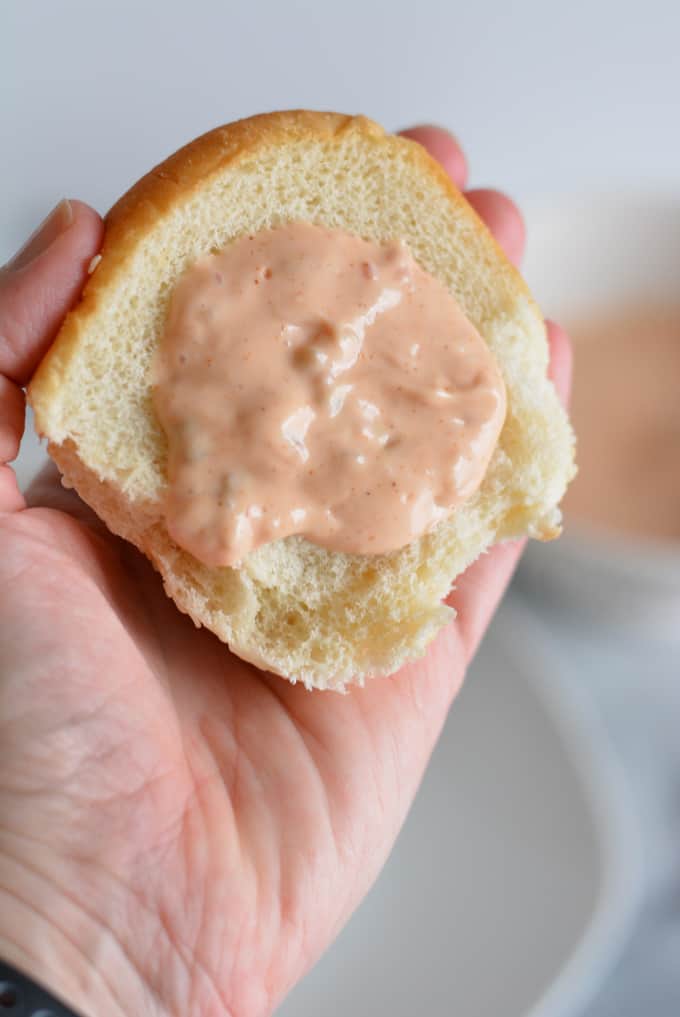 Now for the special sauce! What is the special sauce? There are tons of recipes online.  I took parts of all of them and made the sauce from ingredients that I already had in the house. A few recipes used a tablespoon or 2 of French dressing.  I don't usually use French dressing and didn't want to buy a whole bottle for this. That would have been a waste!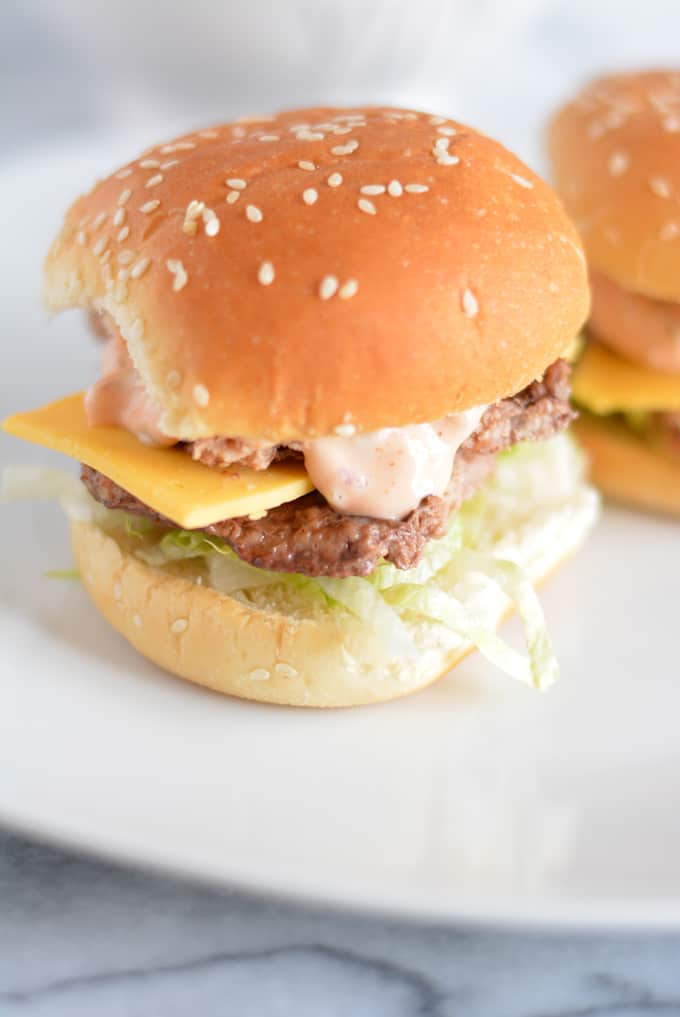 My son insisted on tasting the sauce before he ate the Big Mac sliders because if the sauce wasn't right there was no point in eating the burger! Yes, I love him, but what a pain in the tush!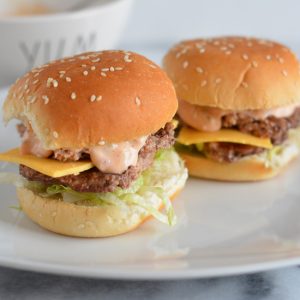 Print
Homemade Copycat Big Mac Sliders
Yield 6 Burgers
A copycat version of the classic McDonald's Big Mac made with fresh ingredients.
Ingredients
Burgers
Olive oil cooking spray
1 pound lean or very lean ground beef
1 cup shredded lettuce
1/4 cup onion, minced
3 slices of Cheddar cheese
6 slider buns
Special Sauce
1/2 cup light mayo
1.5 Tablespoons ketchup
1 Tablespoon sweet relish
1 tsp dill pickle juice
1 Tablespoon minced onion
1/8 teaspoon garlic powder
1/8 teaspoon paprika
1/8 teaspoon onion powder
1/8 teaspoon ground mustard
Instructions
Preheat oven to 350 degrees F.
Spray the bottom of a 13x9 inch baking pan with olive oil spray.
Spread out the ground beef evenly on the bottom of the prepared baking pan.
Bake ground beef in the oven for 20 minutes or until the temperature is 160 degrees F.
While beef is cooking prepare the sauce: place all ingredients in a small bowl and mix until combined.
When beef is cooked removed from the pan and cut into 12 equal squares.
Burger assembly:
Place lettuce on the bottom of a slider bun.
Top with one beef patty.
Next, add cheese (1/2 of one slice is good).
Top cheese with another patty and then pickles.
Spread sauce on top of the slider bun and add a pinch of onion.
Enjoy!
Notes
If you want to warm the burgers, which I recommend, wrap them in foil either individually or all together in a baking pan. Place the burger back into the oven until the cheese melts for about 5-10 minutes.
Nutrition information for the sauce is posted after the recipe card.
Courses Dinner
Cuisine American
Nutrition Facts
Serving Size 1 Burger
Amount Per Serving

Calories 225

% Daily Value

Total Fat 8 g

12%

Saturated Fat 4 g

20%

Unsaturated Fat 3.3 g

Trans Fat 0.2 g

Cholesterol 59.3 mg

20%

Sodium 242.7 mg

10%

Total Carbohydrates 14.4 g

5%

Dietary Fiber 1 g

4%

Sugars 2.4 g

Protein 19.9 g

40%
* Percent Daily Values are based on a 2,000 calorie diet. Your daily values may be higher or lower depending on your calorie needs.