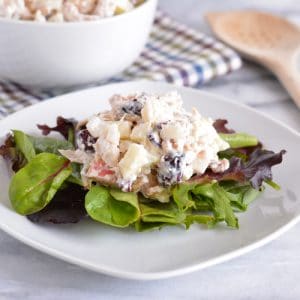 Protein Packed Leftover Turkey Salad
Yield 4 cups
Use up leftover turkey after Thanksgiving or Christmas by making a Fall inspired turkey salad.
Ingredients
2 cups cooked turkey breast
1/4 cup onion, diced
1/4 cup celery, diced
1/3 cup dried cranberries
1/3 cup walnut pieces
1/2 apple, diced
1 tablespoon Grey Poupon
3/4 cup mayonnaise
Salt and Pepper to taste
Instructions
Combine all ingredients.
Stir to coat to combine.
Serve on a bed of lettuce or on your favorite bread.
Courses Lunch
Amount Per Serving

Calories 247

% Daily Value

Total Fat 12.4 g

19%

Saturated Fat 1.6 g

8%

Unsaturated Fat 10 g

Cholesterol 51.6 mg

17%

Sodium 360.2 mg

15%

Total Carbohydrates 15.7 g

5%

Dietary Fiber 1.5 g

6%

Sugars 8 g

Protein 18.9 g

38%
Recipe by Nourished Simply at https://nourishedsimply.com/leftover-turkey-salad/