Outdoor temps are rising and a cool treat is just what the weatherman ordered.  These perfect portion low-calorie ice cream cookie sandwiches will cool you down without adding too many extra calories for the day.
This is a sponsored conversation written by me on behalf of Albertsons Companies. The opinions and text are all mine.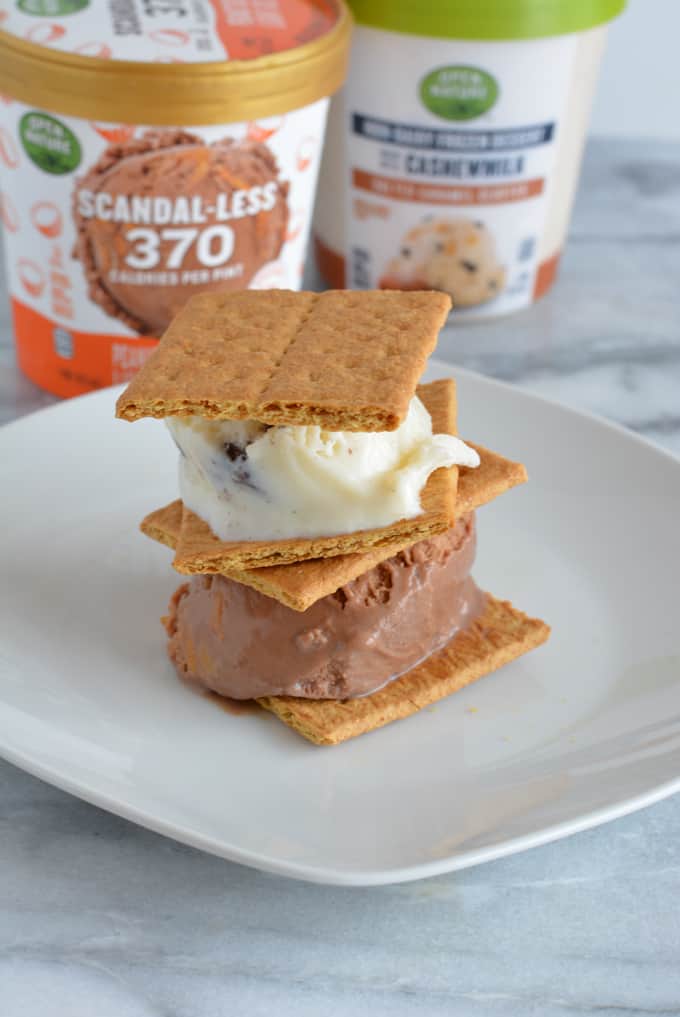 It's so easy to eat more than one serving of ice cream.  I like these low-calorie ice cream sandwiches because they help control the portion of ice cream. You just can't fit a lot of ice cream between two cookies.  Plus, by using graham crackers rather than chocolate chips cookies, for example, you reduce the calorie intake even further. The average ice cream cookie sandwich provides about 300 calories.
These low-calorie ice cream cookie sandwiches only provide 158 calories thanks to the new Open Nature® Scandal-less light ice cream available in the Philadelphia area exclusively at ACME Markets. For anyone outside of the Philadelphia area and do not have a local ACME Markets, you can find these products exclusively at all the Albertson's Companies family of stores including Albertsons, Safeway, Jewel-Osco, Vons, Pavilions, Randalls, Tom Thumb, Shaw's Star Market, and Carrs/Safeway. Visit ACMEMARKETS.com to find a store new you and discover more recipe ideas!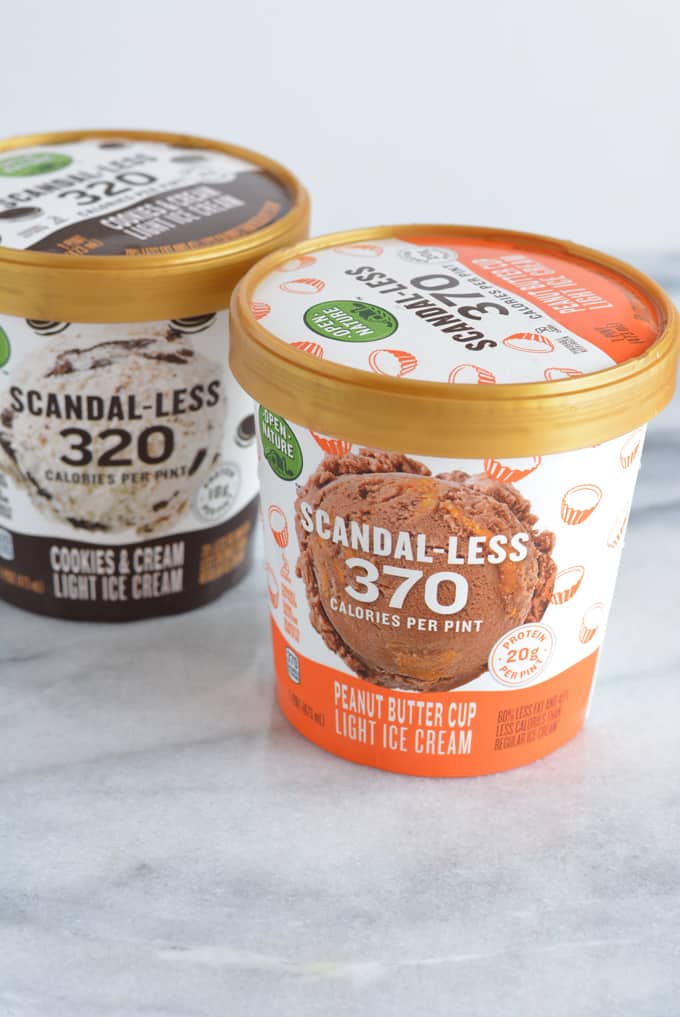 As a food blogger/dietitian, I have tasted most of the light ice cream brands out right now.  I honestly enjoy Open Nature® the best. Currently, there are seven varieties: CookIes & Cream, Sea Salt Caramel, Peanut Butter Cup, Chocolate Chip Cookie Dough, Mint Chocolate Chip, Vanilla Bean, and Chocolate Mocha Chip.
About Open Nature® Scandal-less ice creams:
Contain 60-80%  less fat than regular ice cream
Contain 40-50% fewer calories than regular ice cream
Provides between 240 and 370 calories per pint.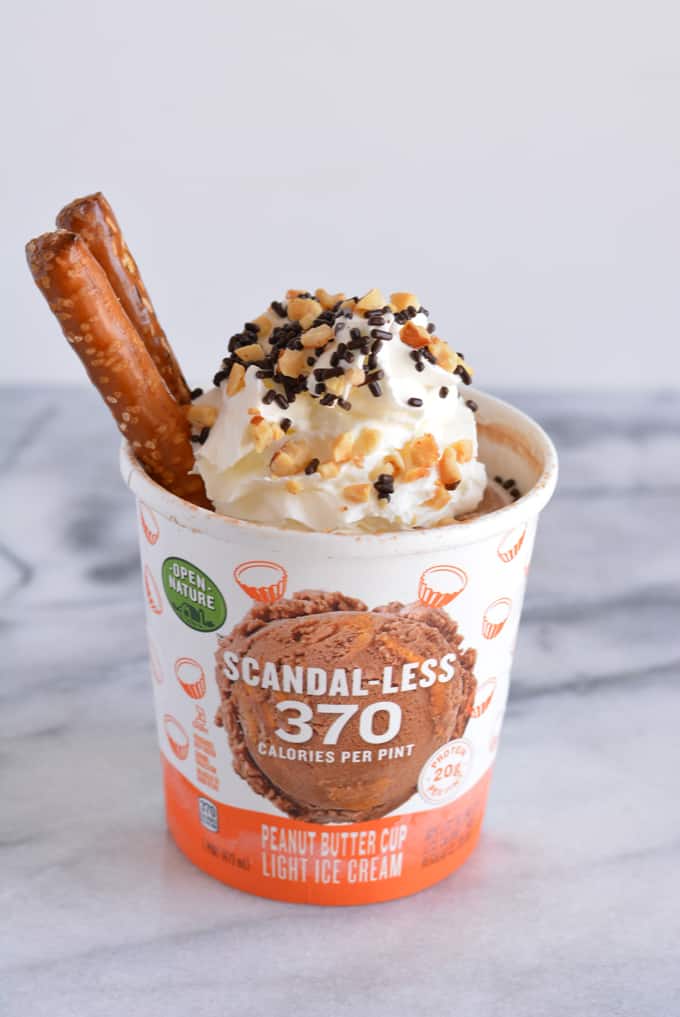 You probably won't eat the whole pint, but you could if you wanted to.  Just add your favorite toppings to the top of your pint and dig in.  My favorite toppings are whipped cream, nuts, chocolate jimmies, and pretzels.  I couldn't eat the whole pint above.  I actually got about 4 servings out of the peanut butter cup pint.
For anyone who is not able to handle dairy products or wishes to not consume dairy for any reason Open Nature® also has their new non-dairy frozen desserts.  These desserts are made with either almond milk or cashew milk.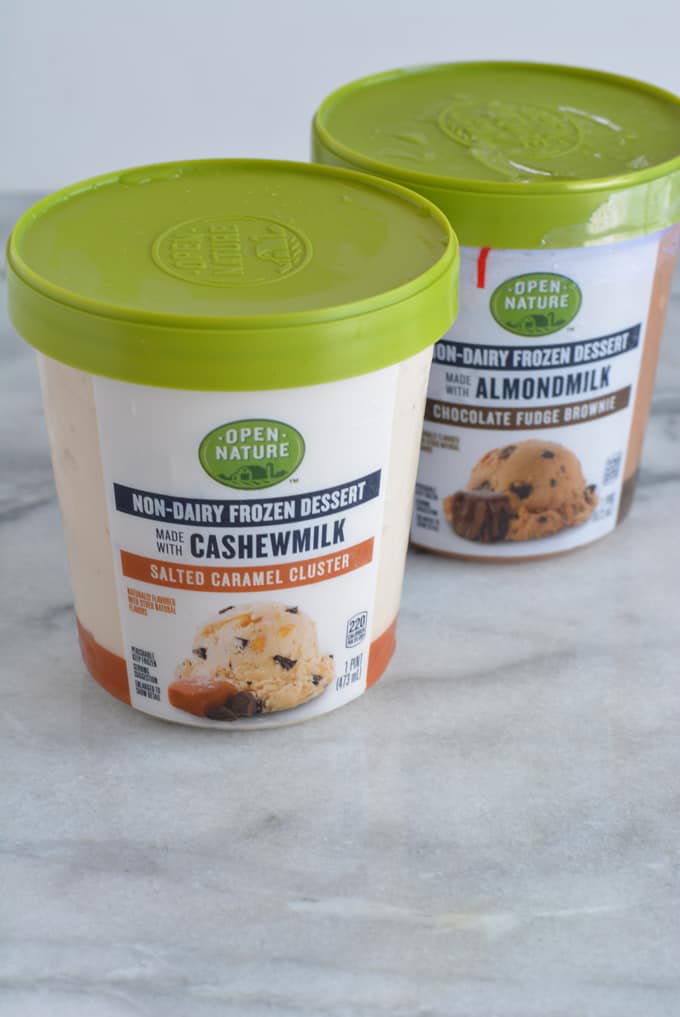 Tips to make low-calorie ice cream cookie sandwiches:
Make sure the ice cream is soft, but not runny.  Graham crackers are a bit delicate, so if the ice cream is too hard you may crack the graham cracker when you make the sandwich.
If the ice cream is too soft and is dripping assemble the sandwiches and then place the finished sandwiches into the freezer to harden.
You can use any variety of graham crackers you wish.  It would be fun to mix them up.
Dip the ice cream cookie sandwiches in toppings like jimmies, pretzel pieces, chopped nuts, or cookie crumbs. These are fun additions.
How to assemble your ice cream cookie sandwiches: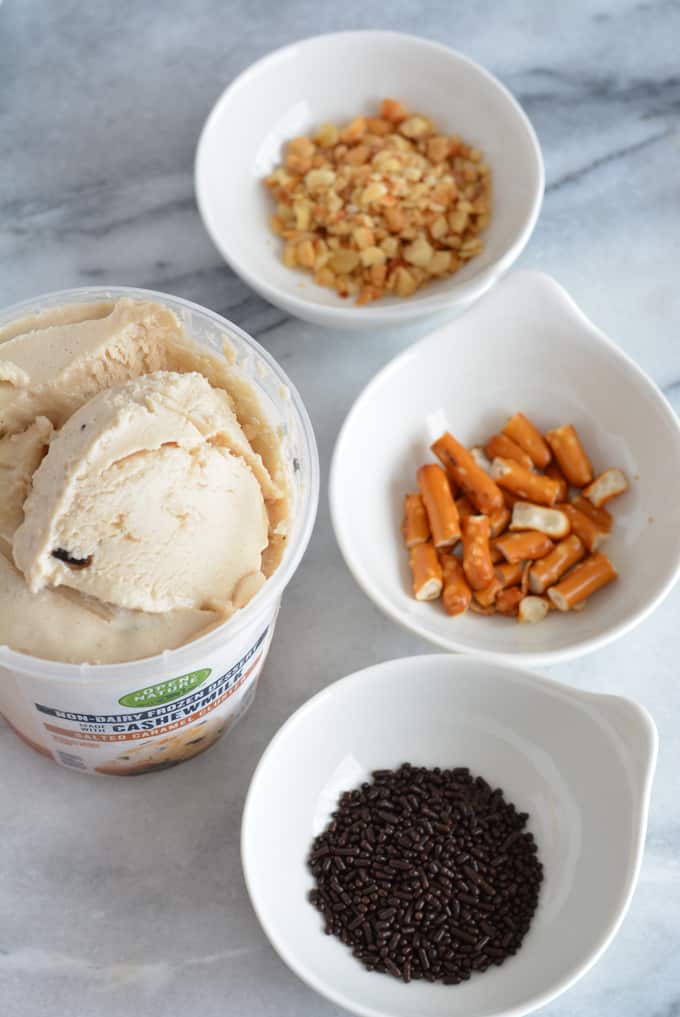 Soften the ice cream and assemble toppings of your choice.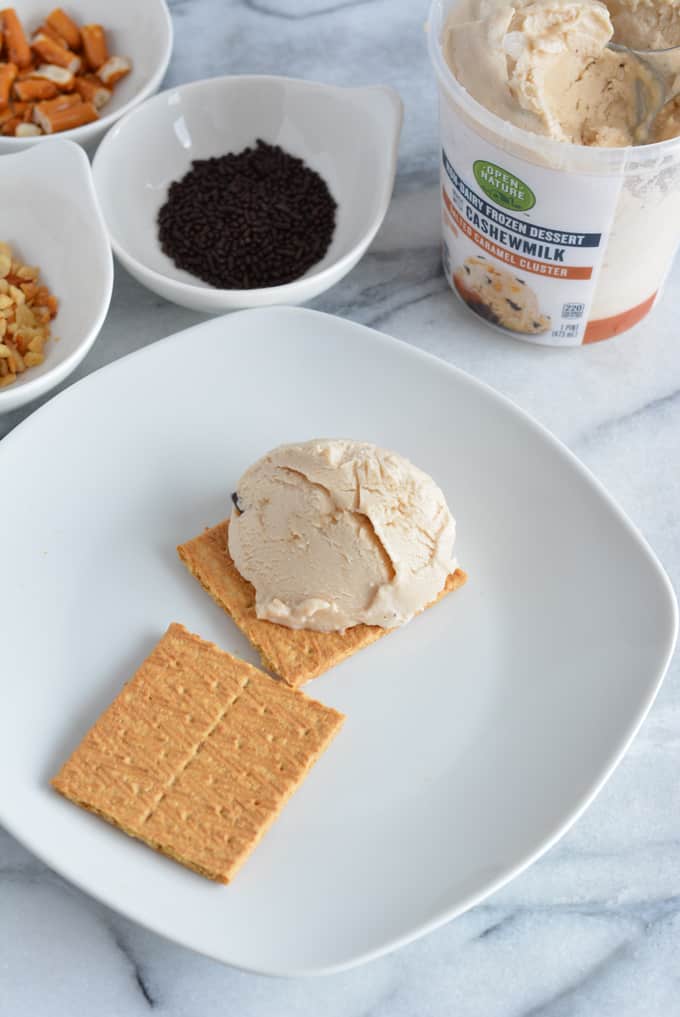 Break one graham cracker in half.  Place one scoop (about 1/2 cup) of ice cream of your choice onto on 1/2 of the graham cracker.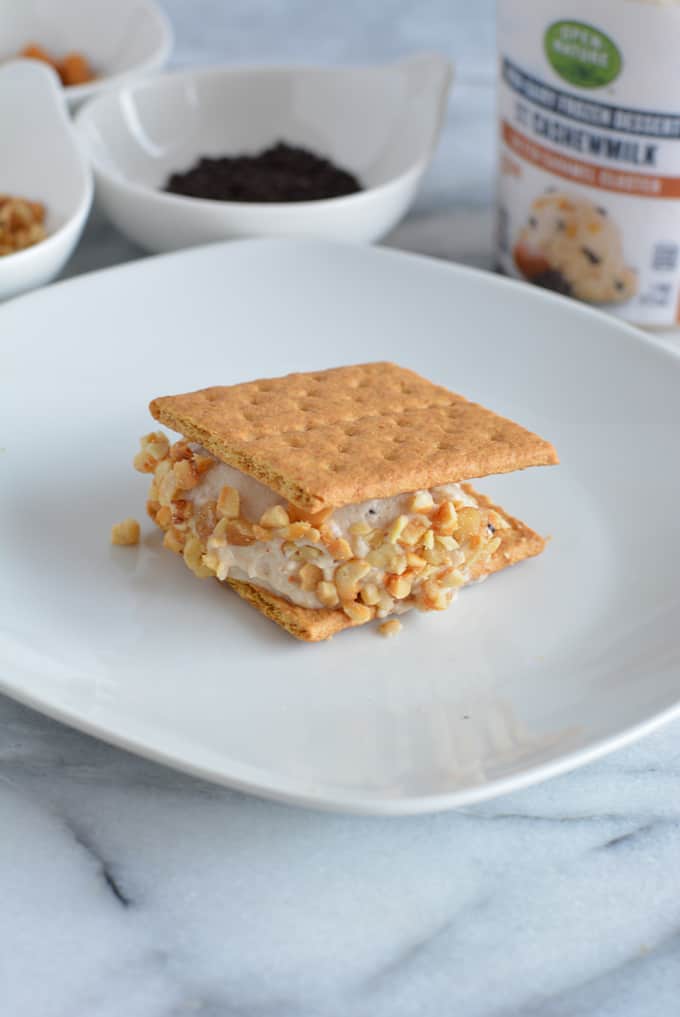 Place the other half of the graham cracker on top of the ice cream pressing down gently.  Remember if the ice cream is too hard or you press too hard you will break the graham cracker.  Dip the sides of your ice cream cookie into your desired topping. Enjoy right away or freeze for later.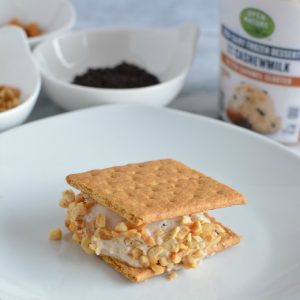 Print
Low-Calorie Ice Cream Cookie Sandwich
Yield 1 cookie
Light ice cream combined with low-fat graham crackers is a low-calorie treat perfect for a hot summer day.
Ingredients
1 graham cracker
1/2 cup Open Nature Scandal-less Ice Cream (I used Peanut Butter Cup for the nutrition analysis)
Instructions
Soften ice cream
Break the graham cracker in half
Place 1/2 cup of ice cream onto one half the graham cracker
Top with the other half of the graham cracker
Tip the sides of your sandwich into the toppings of your choice.
Serve immediately or freeze for later
Courses Dessert
Nutrition Facts
Serving Size 1 sandwich
Amount Per Serving

Calories 158

% Daily Value

Total Fat 4.4 g

7%

Saturated Fat 1.1 g

6%

Cholesterol 18.9 mg

6%

Sodium 208.6 mg

9%

Total Carbohydrates 28 g

9%

Dietary Fiber 1 g

4%

Sugars 10.8 g

Protein 6.3 g

13%
* Percent Daily Values are based on a 2,000 calorie diet. Your daily values may be higher or lower depending on your calorie needs.