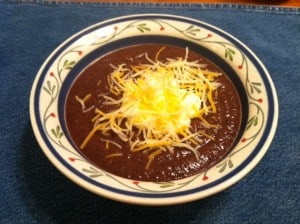 It's Meatless Monday!  Each week I am going to post a meatless recipe.  For my first Meatless Monday recipe I have decided to post my son's favorite soup, Black Bean.
The recipe comes from a great book, Soup & Ladle Favorites, published by the Pennsylvania Dietetic Association.  There are actually 5 different Black Bean Soup recipes in this book, however I use the Fast and Easy Black Bean Soup recipe, because it's fast and easy!  When we need a quick meal, especially on days I work, this is a great choice.  We often pair the soup with whole grain tortilla chips.
The additions of the cheese and yogurt enhance the flavor and increase the protein content.  The sodium content is a bit high, but this is because canned beans and ready made salsa are used.  To decrease the sodium content you can use fresh homemade salsa.  You can also use dried beans instead of canned, however the recipe will no longer be fast.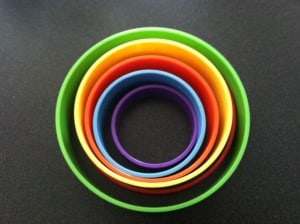 Print
Fast and Easy Black Bean Soup
Yield 6
Ingredients
3 (15-ounce) cans black beans, drained and rinsed
2 cups water
1 cup salsa
1/3 cup Mexican or Taco Style Shredded Cheese
1/3 cup plain, unflavored Greek Yogurt
Instructions
Combine beans, water, and salsa in a saucepan. Bring ingredients to a boil. Once boiling reduce heat and simmer over medium heat for 10-15 minutes, stirring occasionally. Puree soup in batches in a blender or all at once if using a food processor until smooth. Once smooth return to your saucepan and heat to desired serving temperature. Ladle into bowls and top with 1 tablespoon of cheese and 1 tablespoon of Greek Yogurt
Courses Soup
Cuisine Mexican
Nutrition Facts
Serving Size 1 cup
Amount Per Serving

Calories 251

% Daily Value

Total Fat 2.9 g

4%

Saturated Fat 1 g

5%

Cholesterol 6.2 mg

2%

Sodium 958 mg

40%

Total Carbohydrates 49.4 g

16%

Dietary Fiber 13.3 g

53%

Sugars 5.2 g

Protein 16.7 g

33%
* Percent Daily Values are based on a 2,000 calorie diet. Your daily values may be higher or lower depending on your calorie needs.