We are in the middle of a blizzard today here in Pennsylvania.  Soups and stews are great meals to come home to after spending time in the snow.  My favorite soup is Minestrone soup!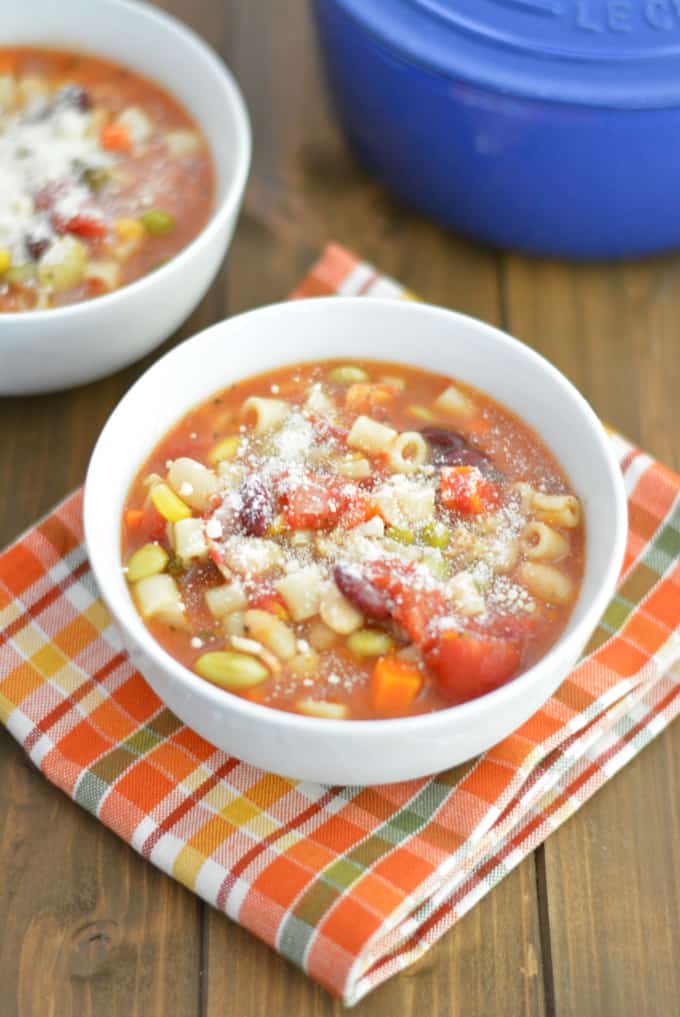 The weather in PA has been unusually warm lately.  We thought winter would never get here.  Well winter came and dumped lots of snow on us.  Original totals were 12-16 inches.  By lunch time the storm shifted and expected totals rose to 24-30 inches.  We actually had blizzard conditions.  In the morning Madison had trouble going outside.  The snow was up to her belly then. My hubby shoveled her a path at least three times.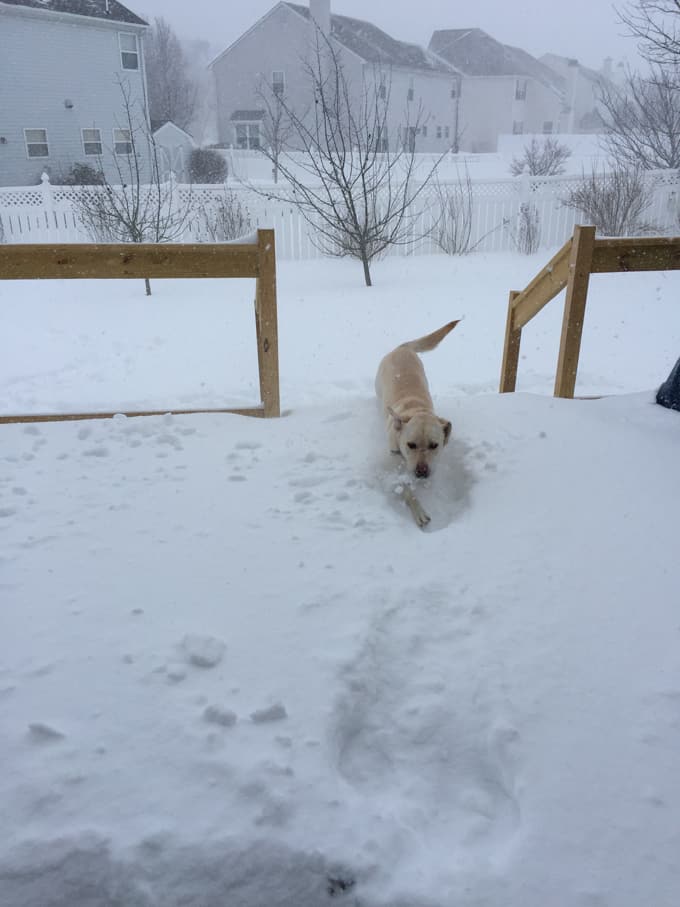 I spent the day baking and making dishes for up coming blog posts.  The snow actually helps with lighting! I also had all the ingredients for minestrone soup on hand, so was a perfect choice for a post shoveling meal to warm up our fingers and toes.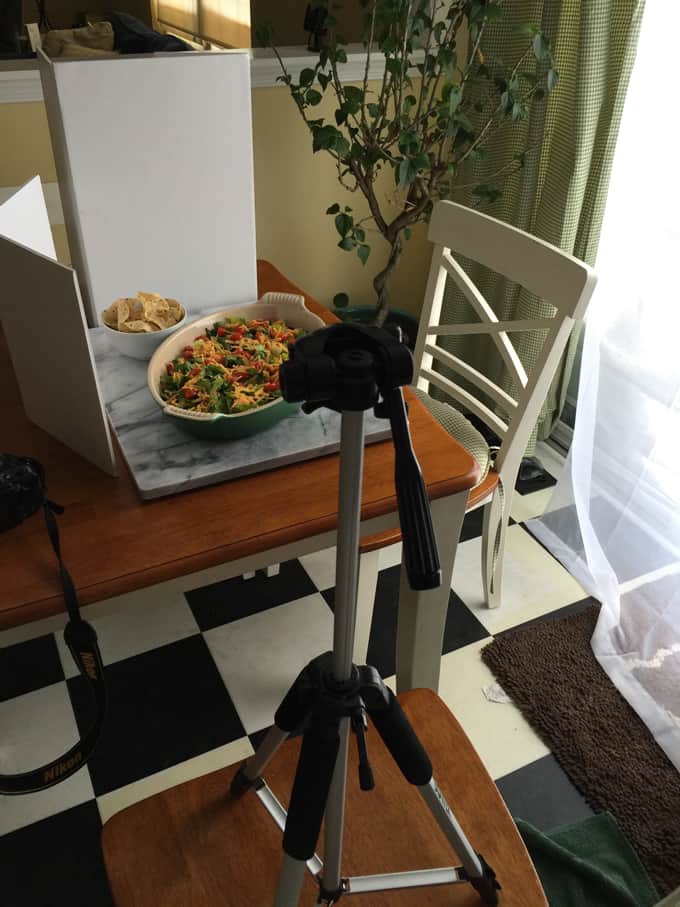 I only love the minestrone soup I make.  I use the recipe my mother has used since I was a kid.  I have no idea where the original recipe came from.  No other minestrone soup compares. Minestrone soup is a perfectly healthy soup that is low in calories and fat.  This soup is full of veggies and beans that are rich source of fiber.
Minestrone is a quick soup to make when you are pressed for time.  You can prepare this soup in about thirty minutes.  The recipe uses canned and frozen ingredients, which makes it a very affordable meal as well.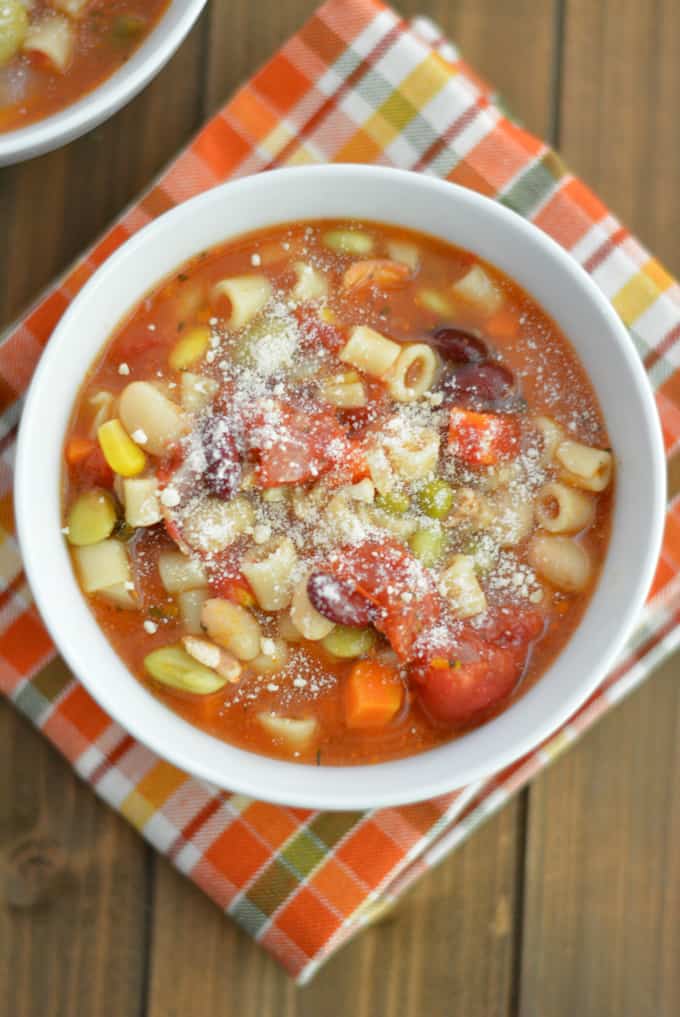 Did you get snow this weekend where you live?  What warms you up during a blizzard?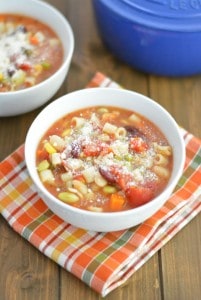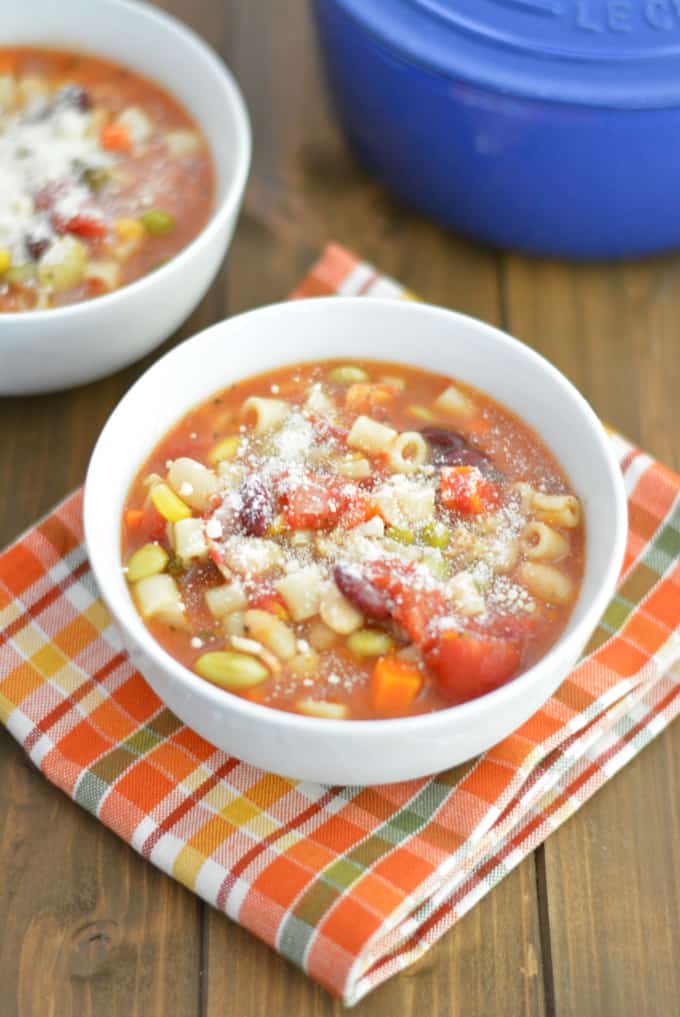 Print
Minestrone Soup
Yield 8
Ingredients
2 thin strips of bacon, chopped fine
1/2 chopped Vidalia onion
2 teaspoons Olive Oil
4 cups chicken broth
1 (32 ounce) can whole tomatoes
1 (10 ounce) package of frozen mixed vegetables (example carrots, green beans, peas, corn)
1 cup uncooked small salad macaroni or other small pasta
1 teaspoon dried basil leaves
Few grains of pepper
1 (10 ounce) can cannellini beans drained and rinsed
1 (10 ounce) can red kidney beans
Fresh parsley chopped fine
Grated Parmesan Cheese
Instructions
In a heavy saucepan cook bacon and oil with olive oil 2-3 minutes on medium heat until onion is translucent.
Stir in broth, tomatoes (broken up) with juice, vegetables, macaroni, basil, and pepper.
Bring soup to a boil of medium high heat.
Reduce heat and simmer 10-12 minutes or until macaroni is tender.
Stir in beans.
Cook 2 minutes more.
Sprinkle with parsley and cheese after portioned out.
Nutrition Facts
Serving Size 8
Amount Per Serving

Calories 194

% Daily Value

Total Fat 3 g

5%

Saturated Fat 1 g

5%

Unsaturated Fat 2 g

Cholesterol 3 mg

1%

Sodium 507 mg

21%

Total Carbohydrates 33 g

11%

Dietary Fiber 6 g

24%

Sugars 3 g

Protein 10 g

20%
* Percent Daily Values are based on a 2,000 calorie diet. Your daily values may be higher or lower depending on your calorie needs.
This recipe was originally published in December of 2013.  The post and photos have been updated.