Do you have trouble eating the recommended servings of fruit each day? Try a fruit smoothie! This Berry Banana Smoothie has 2 servings of fruit.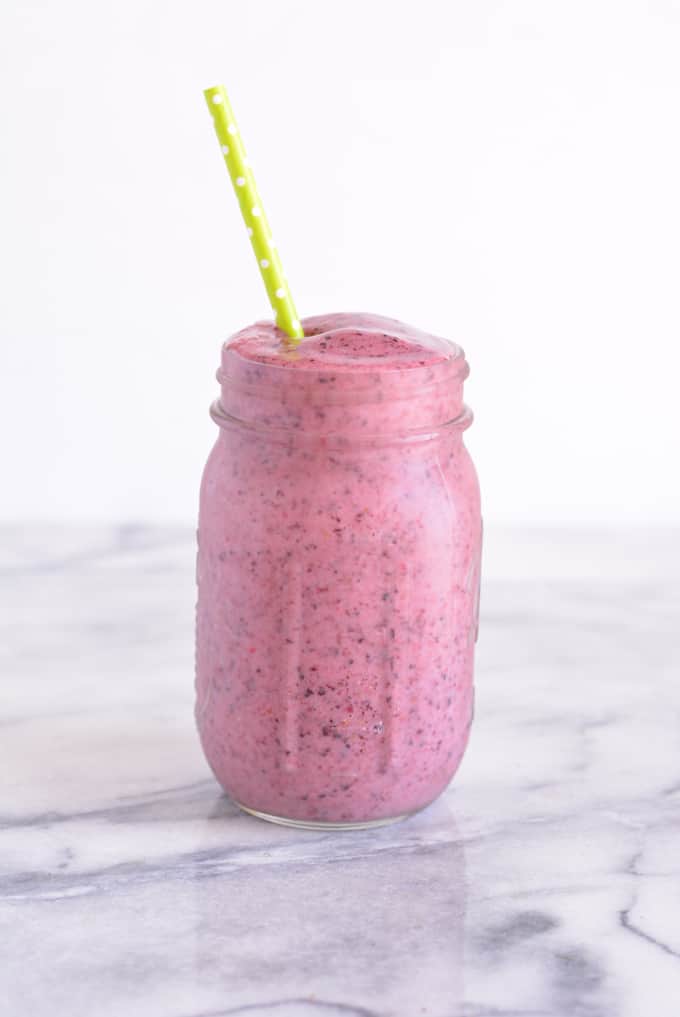 I have been doing some housekeeping here on the blog this summer based on the advice from Katy Widrick over at Make Media Over.  Katy's ebook Make Old Content New Again has helped me revisit old posts and make them better. Katy also gives advice on when to say goodbye to a post and trash it.  Bloggers are continually producing new content, but we sometimes forget about the old content, which is just a good and helpful to readers.
I have been cleaning up my most popular posts by fixing typos, links, and even photographs.  Katy's approach has really helped take away the pressure that I felt.  This blog is not my only job.  In addition to being a wife and mom, I do work as a dietitian in a hospital (with real, live people) three days a week.  Even though I love this blog there are four other priorities higher on my list.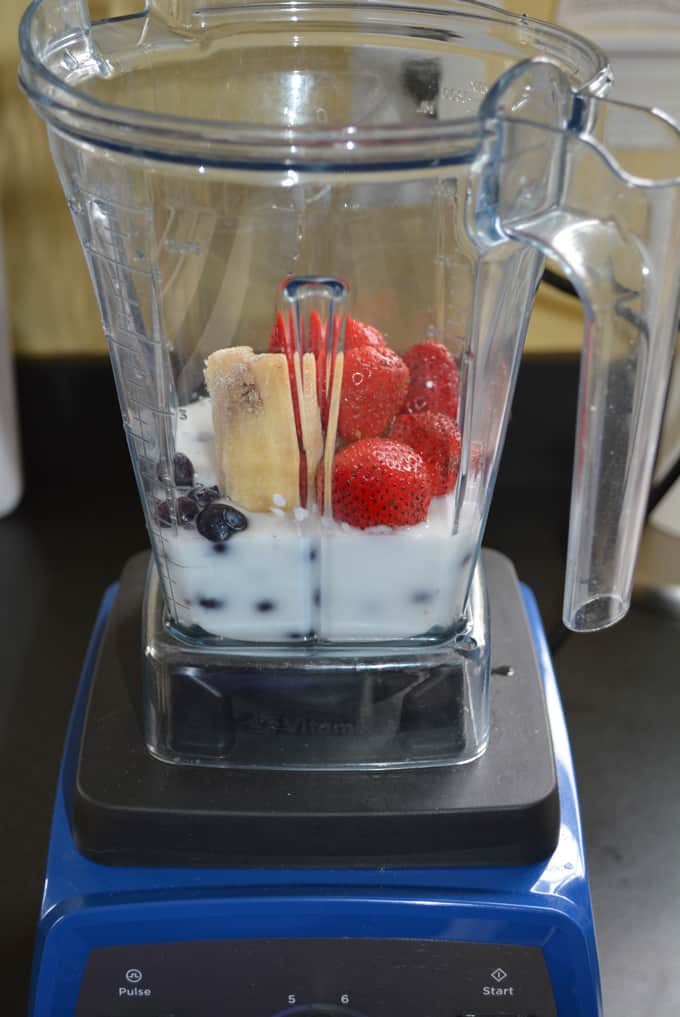 This recipe was part of a post To Juice or Not to Juice that I wrote in 2014, which will be fixed up and reposted next week.  Williams-Sonoma asked me to write a post about juicing that included their juicer buying guide.  As a new blogger I said yes, however, I wasn't compensated nor did they even share it. Because of this, I had no problems altering that post and taking this recipe away. This recipe (which I love) got lost in that post.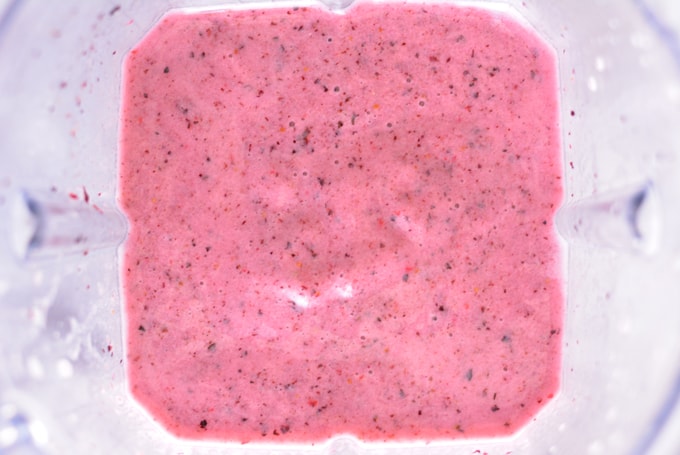 This is probably my favorite smoothie recipe.  Don't get me wrong I like all of my recipes, but I probably make this one the most.  I usually use all frozen fruit so it's nice and cold, almost like a slushy.  You can use any berries you want, but I prefer strawberries and blueberries.  A banana, of course, is the base of all my fruit smoothies.
The original pictures were dark and just not good.  Since I make this smoothie so often it was easy to retake the photographs. The picture of the Vitamix is from the original post, but all the other pictures are new.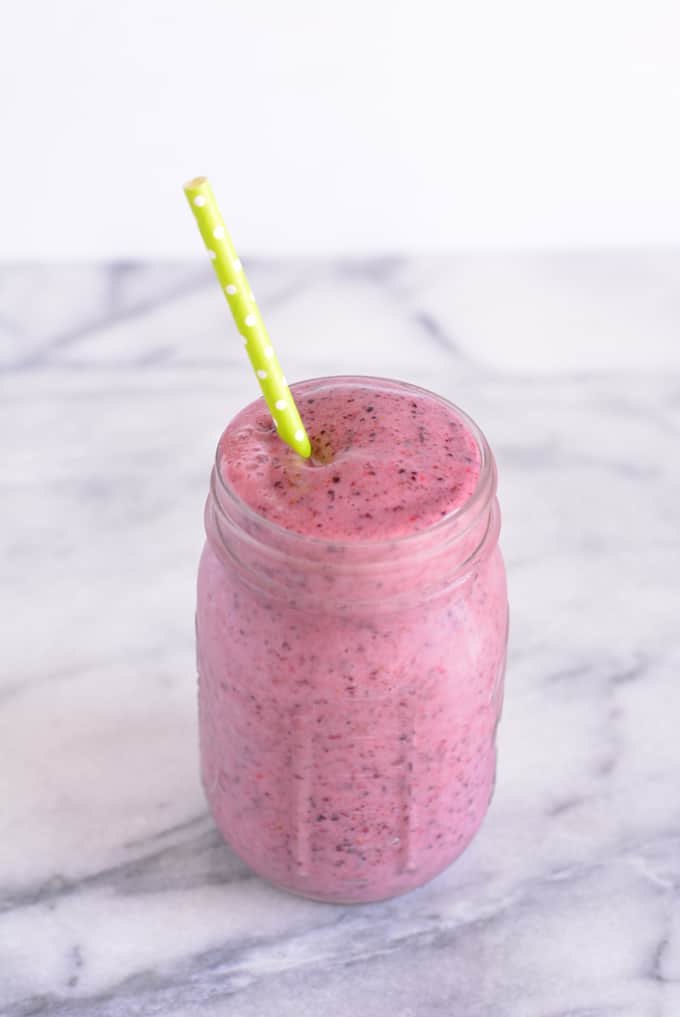 I have a confession.  I don't like to eat bananas or blueberries.  I don't like the texture of bananas or the tartness of blueberries.  This smoothie though allows me to get all the benefits of these fruits that I would otherwise be missing.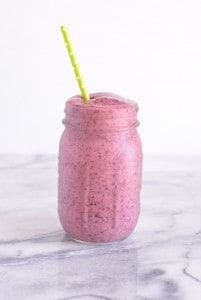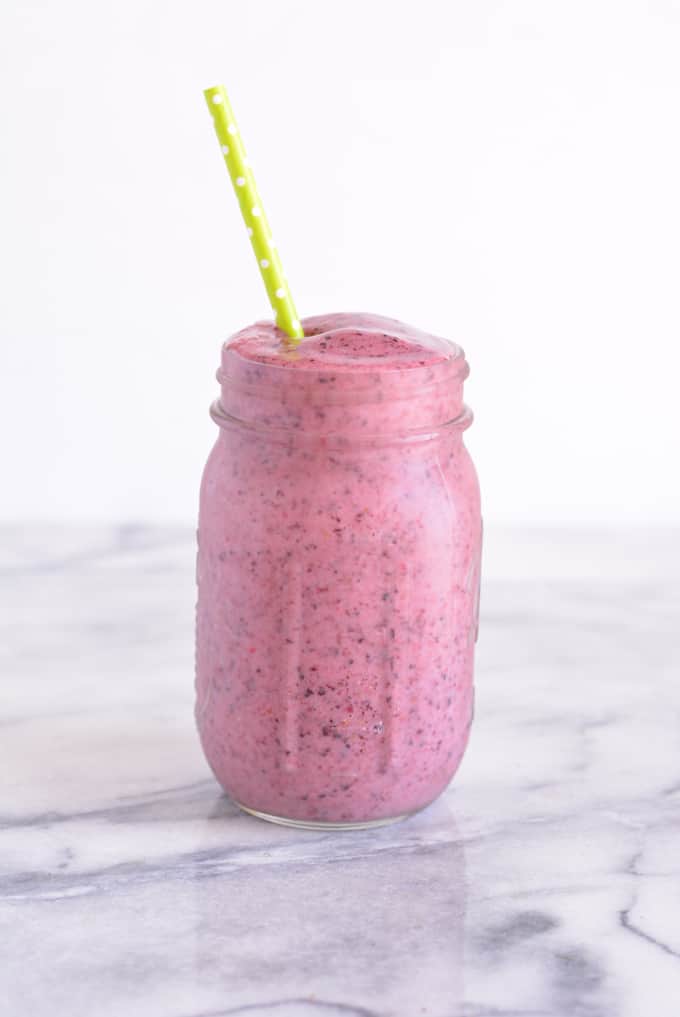 Print
Berry Banana Smoothie
Yield 1
Ingredients
3/4 cup coconut milk (sweetened or unsweetened)
1/3 cup blueberries
1 small banana or 1/2 of a large banana
1 cup strawberries
Instructions
Pour coconut milk into blender.
Add banana, strawberries, and blueberries.
Blend to desired consistency.