Chocolate Pistachio Chip Nice Cream is made with just 6 simple ingredients and will help you meet your fruit quota for the day!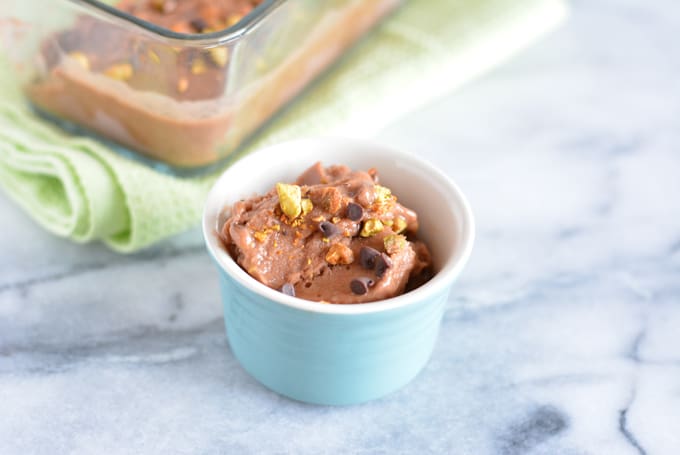 I received free samples of Wonderful Pistachios mentioned in this post. By posting this recipe I am entering a recipe contest sponsored by Wonderful Pistachios and am eligible to win prizes associated with the contest. I was not compensated for my time.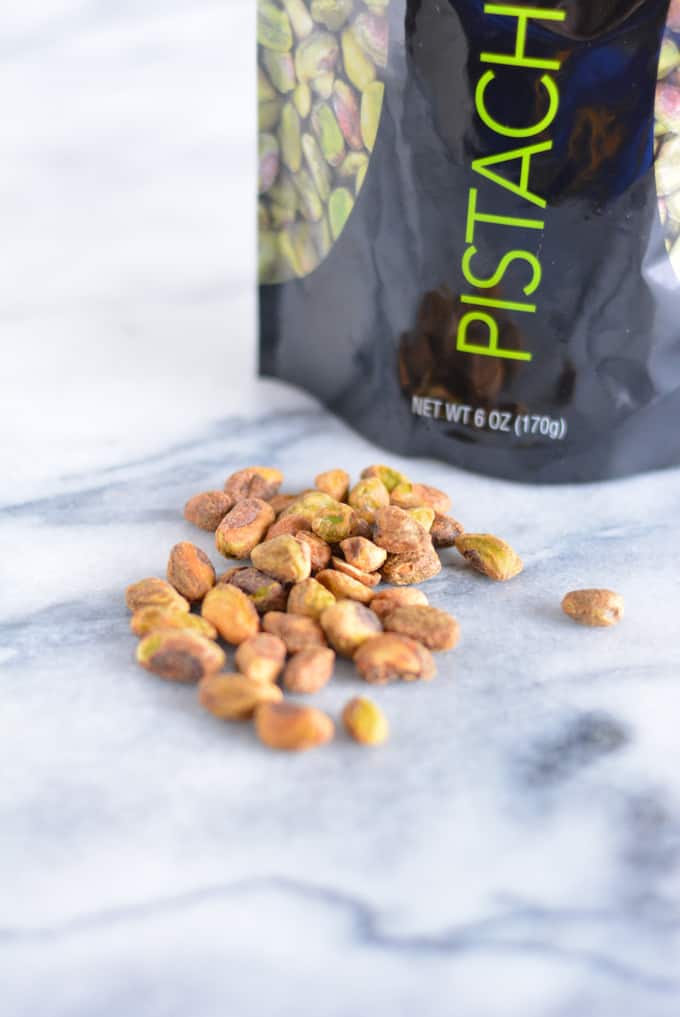 February is National Heart Health Month.  A heart-healthy diet includes food low in sodium, low in cholesterol, and saturated fat. Not only are pistachios a good source of fiber and protein, but they are naturally low in sodium, low in saturated fat, and contain no cholesterol.
According to Wonderful Pistachios —
1. Pistachios are known as The Fit NutTM because they are one of the highest protein and fiber snack
nuts that are part of a heart-healthy lifestyle. Scientific evidence suggests but does not prove that eating
1.5 ounces per day of most nuts, such as pistachios, as part of a diet low in saturated fat and cholesterol,
may reduce the risk of heart disease.
2. In-Shell Pistachios are known as The Mindful NutTM because they may help you "fool yourself full"
because the leftover shells may provide a visual cue for portions, potentially helping to curb intake.
We call this the Pistachio Principle. One preliminary behavioral study found that participants who
consumed in-shell pistachios ate 41-percent fewer calories compared to those who consumed pistachios
without the shell. Those who chose the "no shells" pistachios consumed an average of 211
calories, while those who chose the in-shell variety consumed an average of 125 calories, suggesting
that empty shells may provide a visual cue for portions, potentially helping curb intake.
3. Pistachios are known as The Skinny NutTM because they are one of the lowest calorie and lowest fat
snack nuts.
4. Pistachios are known as The Colorful NutTM that help you snack colorfully: pistachios' green and red-purple
hues come from antioxidants.
5. Pistachios are The Happy NutTM because you don't snackrifice – snack happy: pistachios offer great
taste AND good health (and pistachios smile back at you).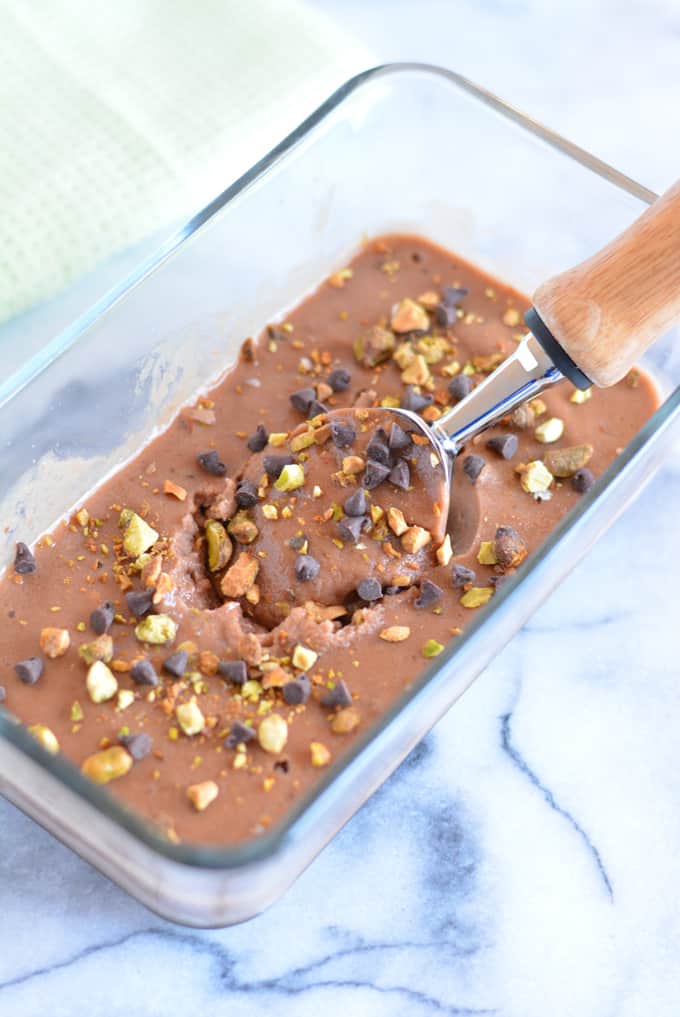 We always have a supply of frozen bananas in our freezer.  My husband always buys a gigantic bunch of bananas when we go to the grocery store. We always have more bananas then he and my daughter can possibly eat. Frozen bananas are great for making smoothies and "nice" cream.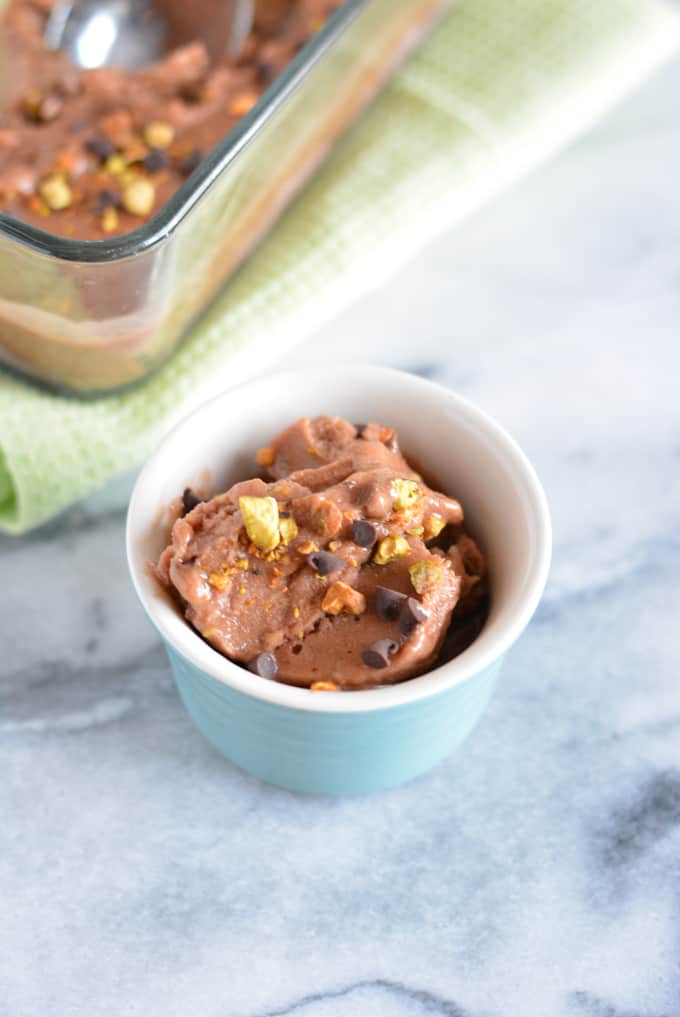 Nice cream, if you haven't heard of it, is simply frozen bananas blended like soft serve.  You get the same mouthfeel of ice cream, but not the calories, sugar, and fat of traditional ice cream.  A serving of chocolate pistachio chip nice cream is under 200 calories per serving.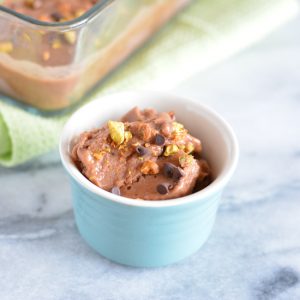 Print
Chocolate Pistachio Chip Nice Cream
Yield 2 cups
A healthier twist on traditional pistachio ice cream. Made with frozen bananas this "nice" cream is lower in fat and calories.
Ingredients
1/2 cup coconut milk beverage
2 frozen bananas
1 tablespoon unsweetened cocoa powder
1 teaspoon maple syrup (optional)
1/4 cup chopped Wonderful Pistachios
1 tablespoon mini chocolate chips (more to sprinkle on top if desired)
Instructions
In a blender combine coconut milk, bananas, cocoa powder, and maple syrup.
Blend until smooth.
Stir in 1/2-3/4 pistachios and chocolate chips.
Place "nice" cream into the freezer for about 1 hour to set.
Add leftover pistachios and extra chocolate chips as a topping if desired before serving.
Enjoy!
Courses Snack
Nutrition Facts
Serving Size 1/2 cup
Amount Per Serving

Calories 173

% Daily Value

Total Fat 7.5 g

12%

Saturated Fat 2.6 g

13%

Unsaturated Fat 4.1 g

Cholesterol 42.7 mg

14%

Sodium 42.7 mg

2%

Total Carbohydrates 26.4 g

9%

Dietary Fiber 3.2 g

13%

Sugars 14.2 g

Protein 3.3 g

7%
* Percent Daily Values are based on a 2,000 calorie diet. Your daily values may be higher or lower depending on your calorie needs.
There are endless mix-in options. Adding nuts to your nice cream adds healthy fat and a source of protein.