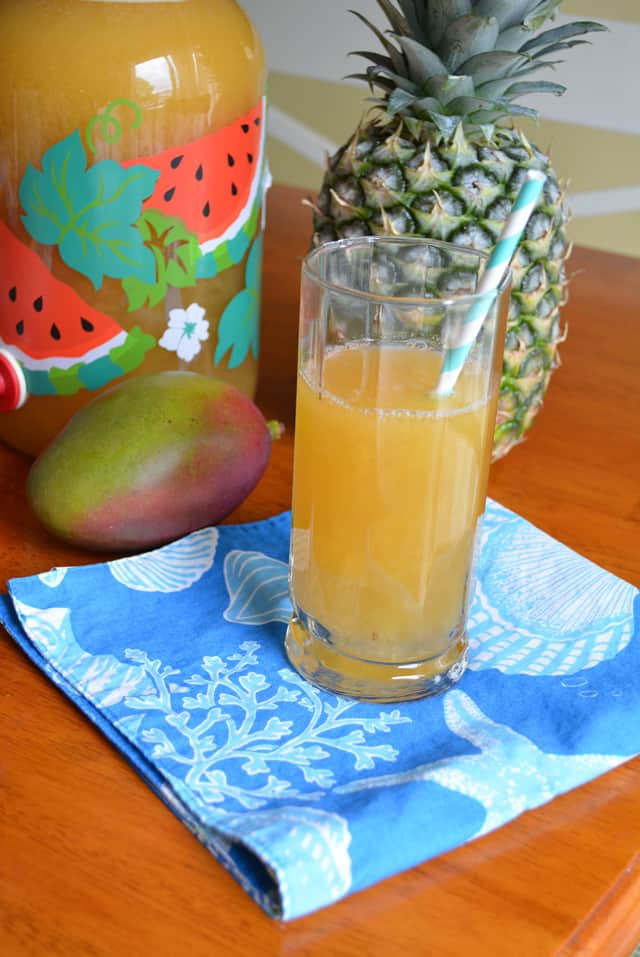 This months Recipe Redux challenge is "Cooking with Tea".  Challenge:  Tea cups around the world are bubbling up with bold new flavors: From cardamom chai and sencha green to bubble teas and veggie teas. We wish we could attend the World Tea Expo the end of this month – but in lieu of a plane ticket, we'll be cooking and baking and stirring up tea-inspired healthy dishes.  
I have never cooked with tea, but love to drink tea.  I decided to experiment with my favorite iced tea and add fruit puree to sweeted the tea without sugar.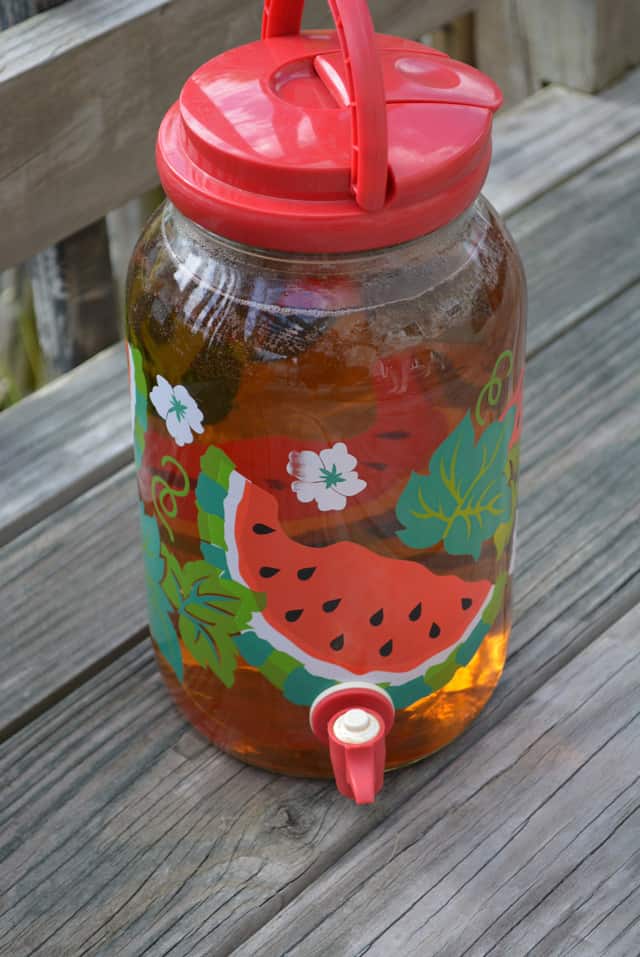 In warmer weather I love to save energy and let the sun brew my tea.  My sun tea pitcher sits in our backyard alot in the summer months brewing great tasting tea.  For this challenge I brewed Oolong tea, a common tea served in Oriental restaurants.  Oolong tea has antioxidant properties similar to other teas, such as green tea.  Oolong is included in an anti-inflammatory diet.  
To brew the tea simply fill your sun tea pitcher with water and float 6-8 tea bags (depending on how strong you like your tea) on the top.  I let the tags hang out and attach the lid to keep the tea bags in place.  Place outside in a sunny spot early in the day and let the sun handle the brewing.
I pureed in my Vitamix 1 cup of mango chunks and 1 cup of fresh pineapple pieces with 1 cup of pineapple juice.  I added the pureed fruit mixture to the tea and stirred.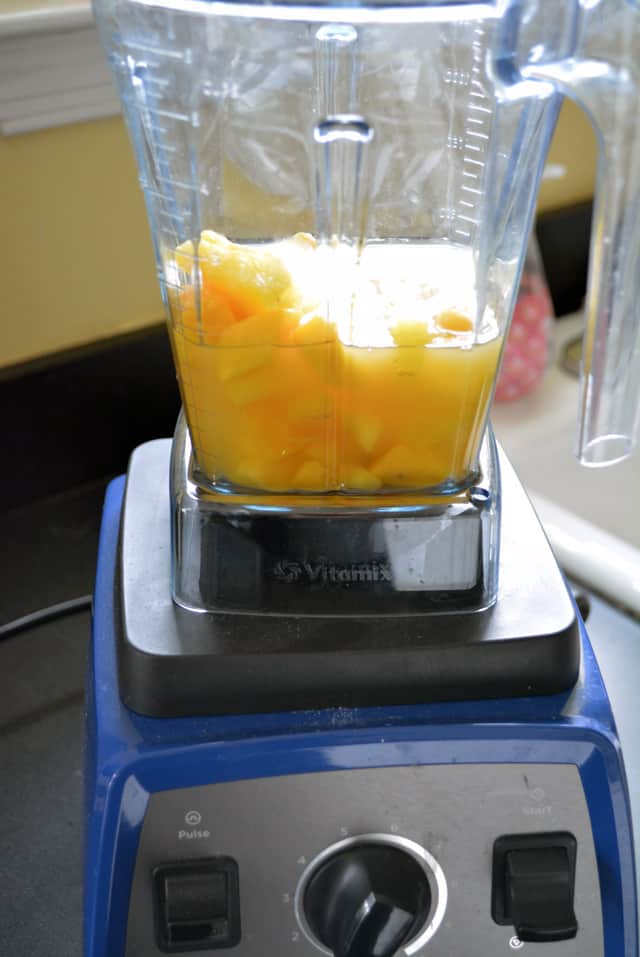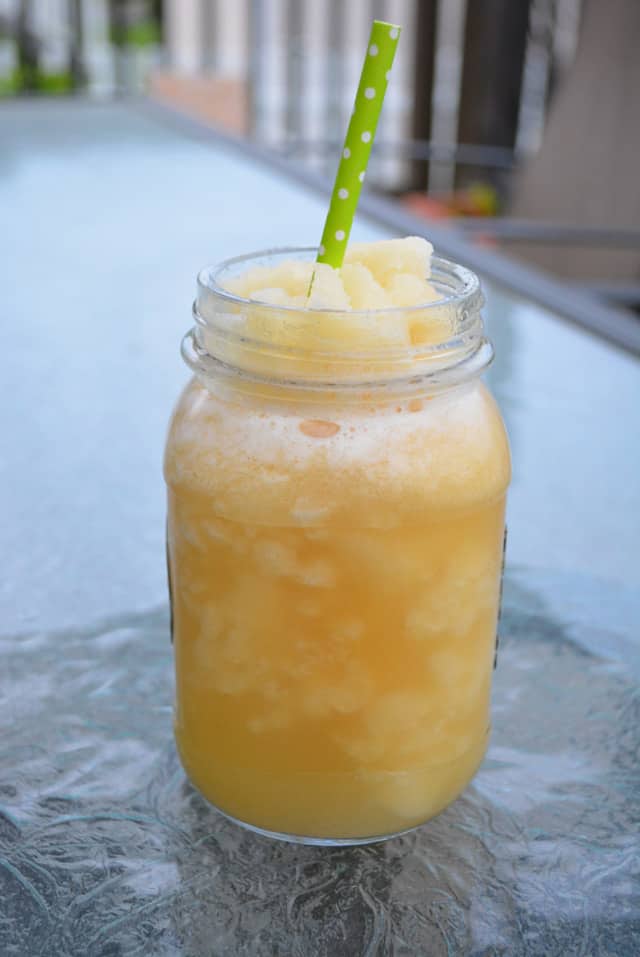 For a really refreshing drink combine your Mango Pineapple Sun Tea with 1 cup of ice and blend for a great frozen treat!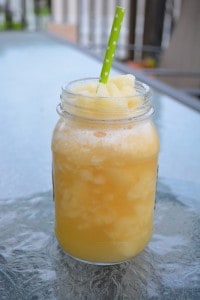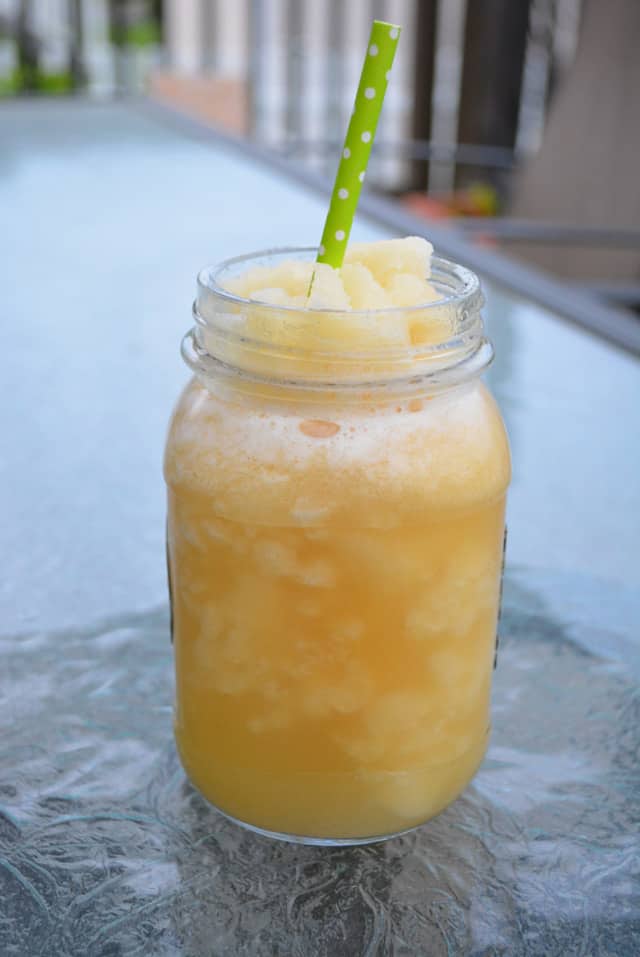 Print
Mango Pineapple Sun Tea
Ingredients
1 Sun Tea Pitcher
6-8 Oolong Tea Bags
8-12 cups of water
1 cup frozen mango chunks
1 cup fresh pineapple chunks
8 ounces pineapple juice
Instructions
Fill a sun tea pitcher with water.
Add 6-8 Oolong tea bags to the top of the sun tea pitcher.
Brew in a sunny spot.
Puree mango, pineapple, and pineapple juice in a blender.
When tea is brewed mix in fruit puree mixture.
Serve immediately chilled.
Nutrition Facts
Amount Per Serving

Calories 302

% Daily Value

Total Fat 1 g

2%

Sodium 103 mg

4%

Total Carbohydrates 76 g

25%

Dietary Fiber 5 g

20%

Sugars 61 g

Protein 3 g

6%
* Percent Daily Values are based on a 2,000 calorie diet. Your daily values may be higher or lower depending on your calorie needs.