Why have boring old chicken salad?  Sneak in fruit and veggies for more nutrients and fiber. This Summer Chicken Salad is super colorful and full of yummy nutrients.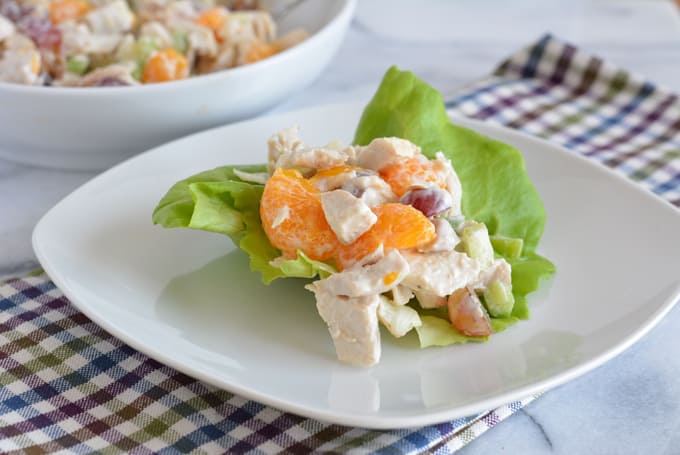 I love chicken salad.  When I first became a dietitian I worked for a nursing home company near Flourtown in Montgomery County, Pennsylvania.  The Flourtown Farmers market was a lunch time stop every once in a while.  My favorite lunch there was the chicken salad made with red grapes.  It was delicious!
A few years later when I was working as a clinical dietitian in a hospital the cafeteria served, only once, a chicken salad that contained mandarin oranges. Again, another win.  I loved both fruit choices and couldn't pick just one as my favorite, so perfect for summer time why not use both fruits?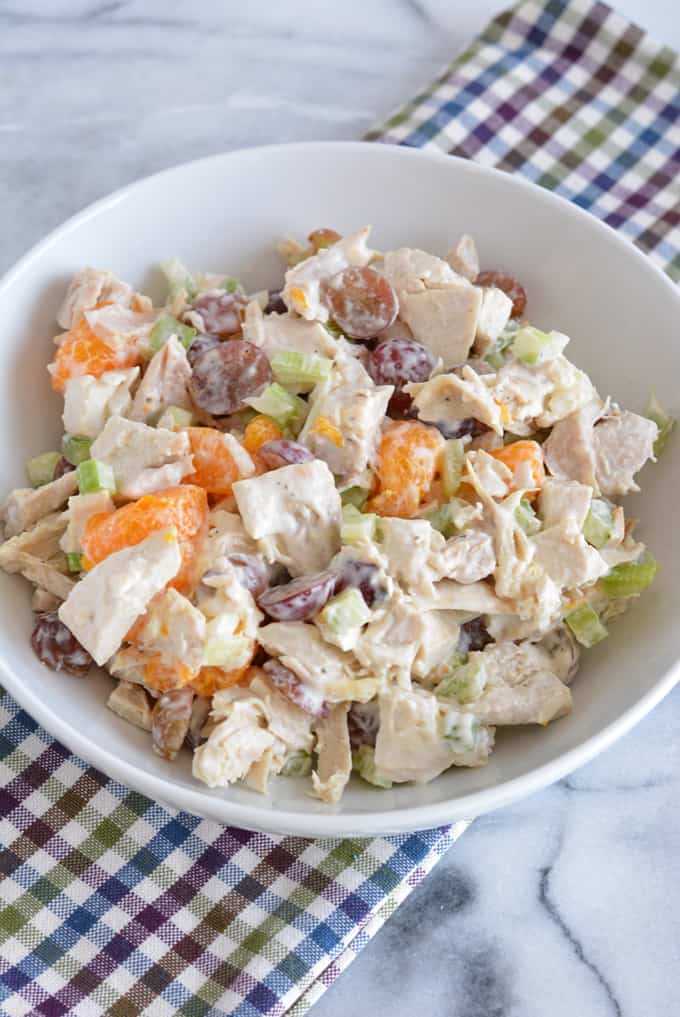 I like chicken very moist.  I took one pound of boneless, skinless chicken breasts and baked them in a baking pan filled with about 2 cups of chicken broth.  The addition of the broth not only helps keep the chicken moist but provides great flavor.  I think boiled chicken can be tough.  This method prevents this. Using chicken broth also eliminates the need for salt in the recipe, since chicken broth has enough salt in it!  I know someone will add it anyway, so I left it optional in the recipe.
I still used traditional ingredients such as onion and celery in addition to the fruit.  The mandarin oranges are delicate, so if you don't want them broken up you may want to add them last.  I mixed all the ingredients at once, so the oranges did break up a bit.  I tried to be gentle though!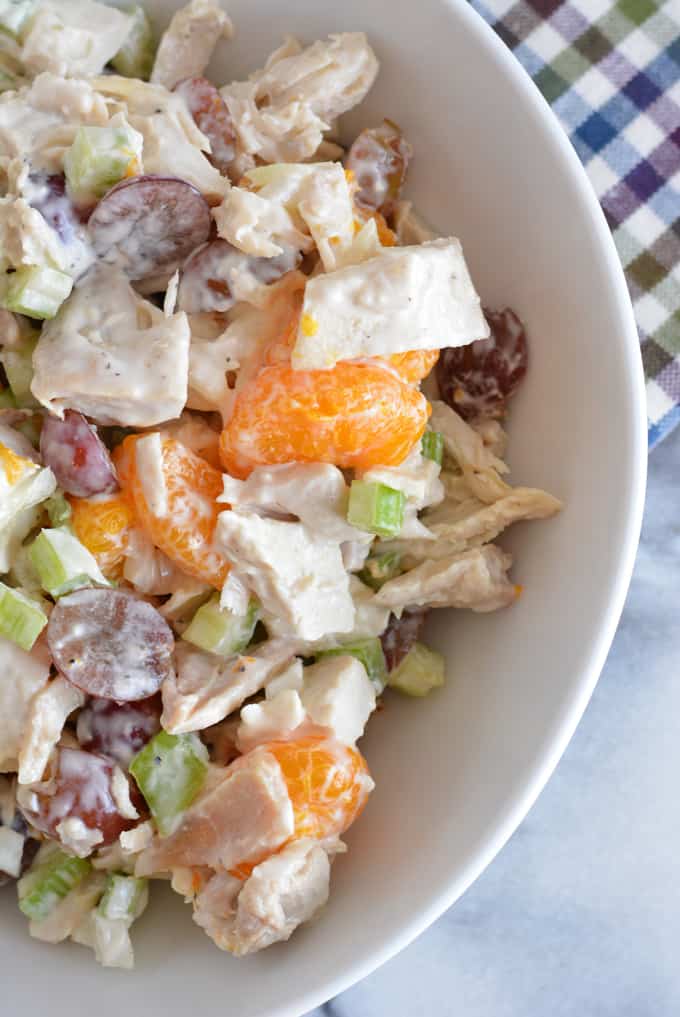 This summer chicken salad is so colorful.  This recipe also happens to be lower in fat than other recipes.  I use a combination of non-fat plain greek yogurt and mayonnaise.  The addition of the greek yogurt allows you to use less mayonnaise, lower the fat content, increase the protein content.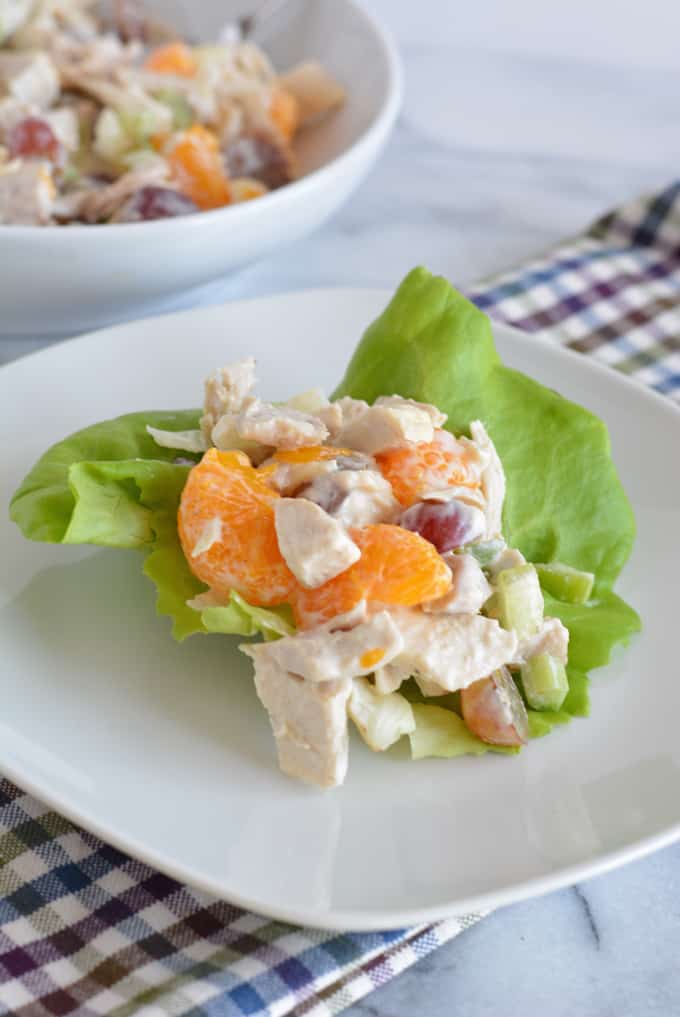 Print
Summer Chicken Salad
Yield 4-6 servings
Ingredients
2 boneless skinless chicken breasts cooked and diced
1/4 cup onion diced
2 celery stalks diced
1 cup red grapes sliced in half
1/2 cup mandarin oranges
1 6 oz container Greek Yogurt
1/2 cup Light Mayonnaise
Salt and pepper to taste
Instructions
Place diced chicken, onion, and celery in a bowl. Add drained mandarin oranges and grapes. Gently fold in greek yogurt and mayonnaise. Season with salt and pepper.
Nutrition Facts
Serving Size 1/2 cup
Amount Per Serving

Calories 187

% Daily Value

Total Fat 9.5 g

15%

Saturated Fat 1.2 g

6%

Cholesterol 40.9 mg

14%

Sodium 239.8 mg

10%

Total Carbohydrates 10.2 g

3%

Dietary Fiber 1 g

4%

Sugars 8 g

Protein 15.1 g

30%
* Percent Daily Values are based on a 2,000 calorie diet. Your daily values may be higher or lower depending on your calorie needs.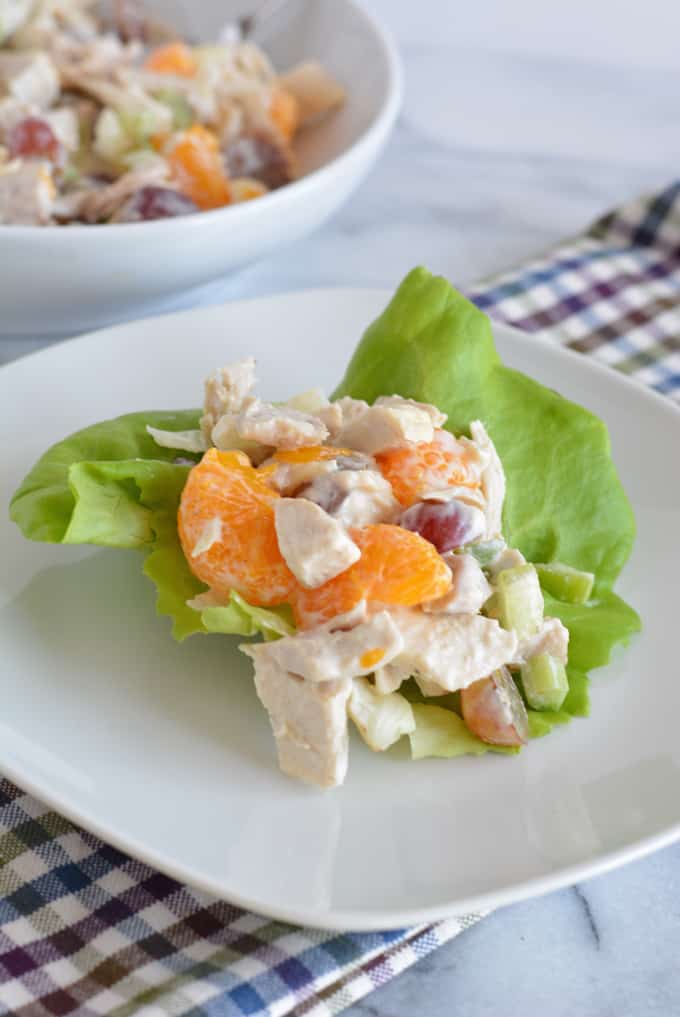 If you're looking for other chicken salad variations check out my Cranberry Pecan Chicken Salad. This recipe is one of the most popular recipes on Nourished Simply and one of the most pinned recipes that I have on Pinterest!