Stuffing made from whole wheat bread, fresh herbs and veggies is so much better than instant! Why get your stuffing out of a box or bag?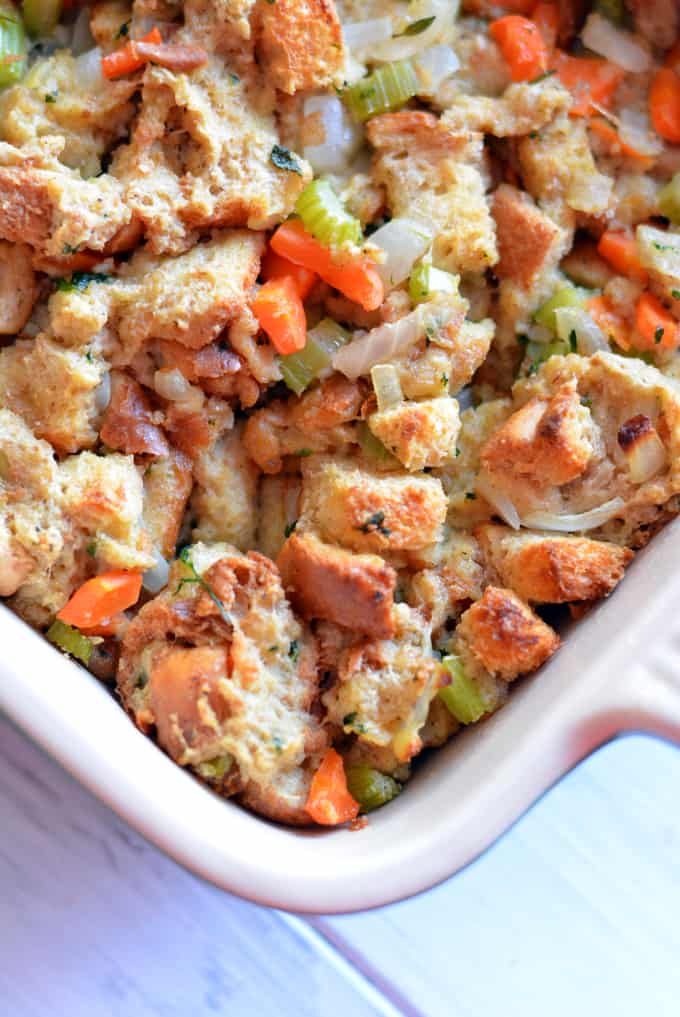 I love stuffing.  In college, I made stove top stuffing and just ate that for dinner!  I know how terrible that is since I was a nutrition student! I only did that once I think.  For Thanksgiving though we always have homemade stuffing. My grandfather hosted Thanksgiving every year until he passed away in 1996.  His stuffing was very simple: white bread diced and dried, celery, onion, marjoram, and parsley. I have his recipe and it's titled "Grandpa's Wet Filling"
One year my Dad made the stuffing and decided to put the parsley into a food processor instead of chopping it by hand.  The parsley sort of multiplied.  The stuffing had way too much parsley.  It became infamously known as the parsley stuffing.  Let me tell you it was pretty green!
I prefer less parsley and a few other herbs.  I also prefer whole wheat bread over white. This stuffing is made with whole wheat sliced bread that I laid out on the kitchen counter to dry out.  I have purchased the stuffing crumb packages before, but I prefer to make my own.  The kids kept asked why I had bread sitting out.  I think I explained what I was doing at least three times.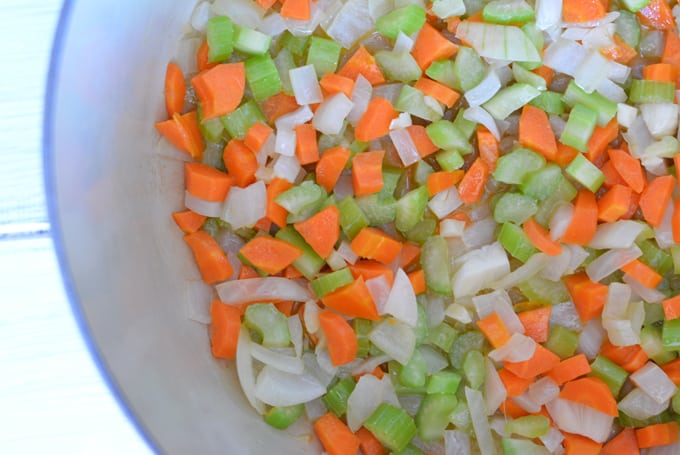 Celery and onions are the only veggies my grandpa would use in his stuffing recipes.  I love to add carrots.  I'm not sure that my hubby likes carrots in his stuffing, but I love the pop of color. The extra nutrients aren't bad either.
I have made a lot of different stuffing recipes, but I think this one is my favorite.  This is a jazzed up version of grandpa's stuffing.  It is moist enough to not need to be cooked in the bird.  I really don't like stuffing that is packed into the turkey. The risk of a foodbourne illness is just too great for this dietitian!!
[Tweet "Do you prefer stuffing inside or outside of the bird?"]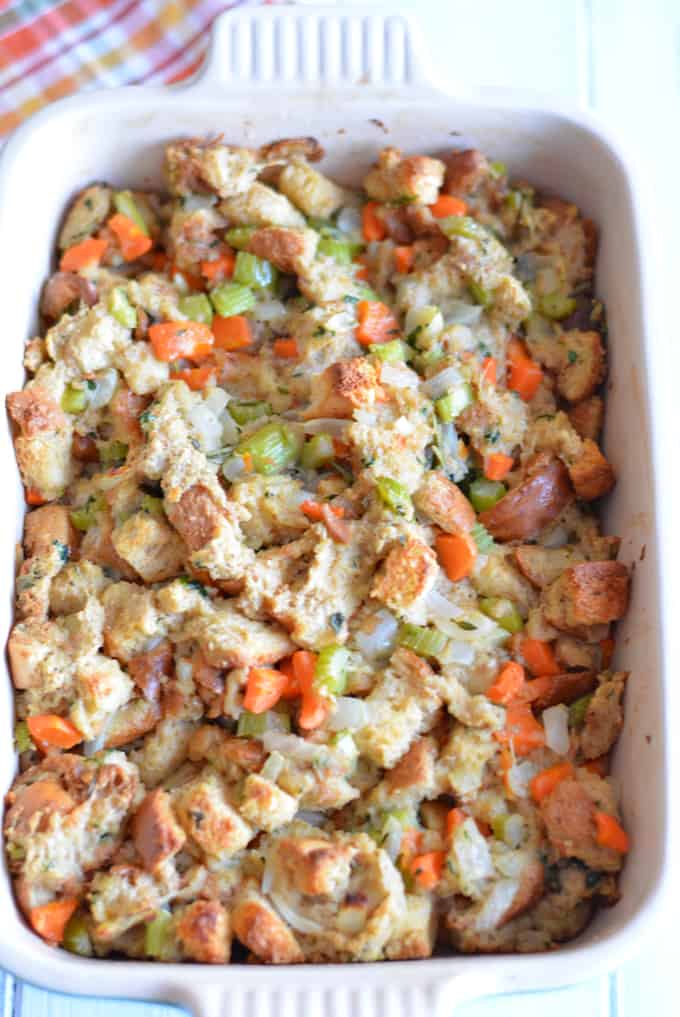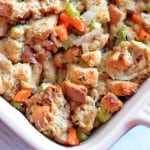 Stuffing
Ingredients
16

slices

of whole wheat bread

dried out

1

cup

chopped onion

2

stalks of celery

diced

1

carrot

diced

2

cloves

garlic

minced

6

Tablespoons

butter melted divided

2

Tablespoons

chopped fresh parsley

1

Tablespoon

chopped fresh rosemary

1

Tablespoon

chopped fresh thyme

1/4

teaspoon

dried marjoram

2

cups

chicken broth

1

egg

1/4

teaspoon

pepper

1/2

teaspoon

salt
Instructions
Preheat oven to 350 degrees F.

In a saucepan heat 3 tablespoons butter over medium heat.

Saute onion, celery, carrots, and garlic until softened (about 5 minutes).

Add in parsley, rosemary, thyme, and marjoram, cooking for an additional 2 minutes.

While vegetables are cooking cut dried bread into small cubes and place into a large bowl.

Pour vegetable mixture over bread and stir to coat.

Place broth, salt, pepper, and egg into bread mixture and stir to coat well.

Place stuffing mixture into a buttered baking dish.

Pour 3 tablespoons of melted butter evenly over stuffing.

Bake for 30-45 minutes until top of stuffing is browned.
More Holiday Recipes